While factory direct sales have been a shiny button in auto retail over the last decade, new research shows that when it comes to customer satisfaction, local new car and truck dealerships dramatically outperform their direct seller counterparts.
According to research by Pied Piper Management Company, luxury brands Cadillac, Infinity and Mercedes Benz held the top spots in customer satisfaction among 25 luxury brands. Direct sellers Tesla, Lucid and Rivian scored 21st, 23rd and 25th respectively.
Image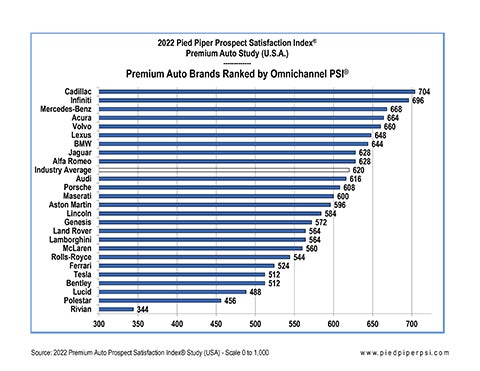 Pied Piper's process measured customers' shopping experience, starting with responsiveness to website customer inquiries, and continuing when customers visited retailers in-person. Measurement of responsiveness to website customer inquiries was based upon 22 best-practice behaviors, while effectiveness of shopping in-person was based upon more than 50 best-practice behaviors, using 1,657 measurements of response to website customer inquiries, and 1,096 measurements of the in-person sales experience. The evaluation took place between July 2021 and July 2022.
"We have found that when their customers reach out for help or with questions, they are usually met with brand reps who answer only simple, scripted questions without being proactively helpful," said Fran O'Hagan, CEO of Pied Piper, regarding direct sellers Tesla, Rivian and Lucid. "It's a missed opportunity that does not currently compensate for the missing retail experience."
O'Hagan continued: "Tesla compares poorly today for helping website customers too. … Tesla's model today appears to be, 'If you want what we sell, and require no assistance, it's easy to order.'"
For more information on Pied Piper's study, click here.
For more stories like this, bookmark www.NADAheadlines.org as a favorite in the browser of your choice and subscribe to our newsletter here: