NADA Academy program prepares current and future dealership leaders to operate a successful and profitable automotive business, while examining the latest in industry trends and technology.
Image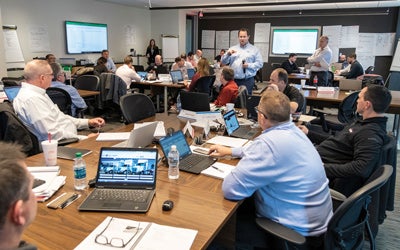 Academy program includes either six one-week classroom sessions or six month-long live online sessions, once or twice a week, over the course of a year. The sessions are taught by industry experts, with hands-on practical application in each area of the dealership. In this process, you will develop an end-to-end view of business and dealership operations.
Image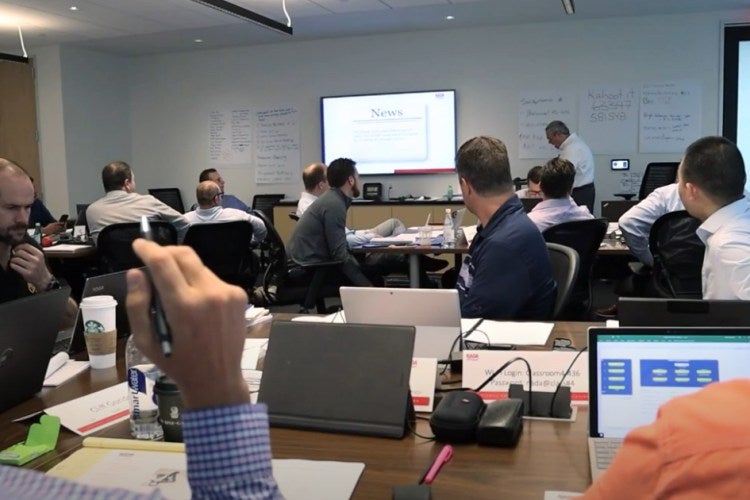 Dealership managers may attend any of Academy classes and hone skills pertinent to their needs.
Tim, Service Manager
30 years automotive experience
Learning about the DISC model, helped me to find my strong points and weakness and what improvement is needed. Also dealing with different personalities.
Roger, Service Manager
22 years automotive experience
Georgia, my instructor, was very engaging and made the course easy to understand.
Ronson, Service Advisor
5 years automotive experience
Being an advisor, this was a lot to take in and I absolutely wouldn't change it! Georgia was amazing and very personable. Thank you!
Highly recommend, the interaction with the instructors was awesome. I will take what I have learned and put it to use on day one. Thank you for all your help.
John, Service Manager
33 years automotive experience
Was a great experience, lots of great information. Looking forward to the next class.
Dwayne, Service Manager
31 years automotive experience
Enjoyed class and was very informative.  Would like to see extended another day to get even more info. I feel as a manager or possible manager, this should be a required class. To be successful you need tools, and this is that tool.  Great class!!
Blair, Service Manager
3 years automotive experience
Amazing class and instructor that will definitely shape my future and the success I can bring to my dealership. A game changer for your managers!
Learn key financial management principles and balance sheet, income statement, and gross profit analysis navigation for both the dealership and departmental levels. Analyze and interpret financial statement data to identify areas for performance improvement. Conduct a SWOT analysis to highlight opportunities for growth.
AGENDA
Basic accounting concepts
Financial statement geography
Maximizing cash and profit
Calculating fixed and total absorption
Cash flow & liquidity
Identifying and eliminating frozen capital
Evaluating and optimizing inventory performance
Analyzing sales and gross profit
Leveraging expense control opportunities
Work in Process (WIP)
SWOT analysis (Strengths, Weaknesses, Opportunities, Threats)
Goal-setting and problem-solving tools
Introduction to the NADA 20 Group Composite
Unleash the profit potential of your second-largest inventory investment by challenging the Parts industry with innovative processes. Discover best practices to optimize your inventory mix and its impact on other departments. Conduct an inventory reconciliation to identify variance and brainstorm solutions. Practice using financial data and standard reports to enhance your Parts department's performance.
AGENDA
Analyzing performance
Controlling aging inventory
Assessing gross profit opportunities
Acquiring the correct mix of parts
Boosting your first-time fill rate
Using DMS reports
Reconciling inventory
Preventing and addressing obsolescence
Sharing best ideas
Analyze key procedures and financial data to identify areas for improvement. Learn to enhance your processes with revelations from an RO analysis. Calculate critical technician and service advisor metrics to elevate performance. Leverage the relationship between service loyalty and future vehicle sales to increase your bottom line.
AGENDA
Assessing gross profit opportunities
Determining labor pricing strategies
Evaluating technician and service advisor performance
Optimizing production and scheduling techniques
Linking telephone strategies to service sales
Exploring service legalese
Sharing best ideas
04
Vehicle Inventory and Marketing Management
Explore inventory management using an investment approach. Examine sales department volume and gross to inform decisions about the dealership's vision. Practice cutting-edge marketing strategies and learn techniques to optimize your website.
AGENDA
Boosting vehicle sales department profitability
Preventing and addressing aged inventory
Appraising, reconditioning, sourcing, pricing, and wholesaling to maximize turn
Evaluating the relationship between volume and gross
Leveraging digital marketing, including SEO, SEM, conversions, analytics, reputation management, and video
Converting leads to sales
Delve into the critical processes that drive customer and employee retention and examine how they're related. Explore strategies for integrating F&I throughout the Road to the Sale to improve profitability. Practice using video to enhance vehicle sales, including lead responses, walk-arounds, test-drives, and follow-up. Learn about NADA's advocacy efforts on behalf of franchise dealers and how you can support them.
AGENDA
Determining true profitability
Identifying F&I opportunities
Optimizing your Dealer-OEM relationship
Leveraging NADA's Dealership Workforce Study to make better compensation decisions
Recruiting and developing employees
Valuing and expanding your customer base
Selling to non-present buyers
Learning about NADA's Legislative Affairs activities
Discover your individual leadership style and its impact on people and processes. Learn to identify and leverage others' communication preferences. Apply the knowledge and skills gained during the first five Academy weeks to make thoughtful hiring and development decisions. Investigate ways to prevent and confront internal fraud by focusing on the root causes. Develop transition plans that can grow with your dealership.
AGENDA
Completing a personalized leadership assessment profile
Examining research-based leadership theories and techniques
Preventing, detecting, and addressing internal fraud
Planning for transitions (management growth and succession strategies)
Focus on objectives set in the composite during class and address challenges with additional follow-up sessions after graduation.
AGENDA
Analyzing performance using financial composite
Analyzing performance using digital composite
Peer to peer discussions about successes and opportunities
Discuss hot industry topics
Strategize about future plans
Sharing best ideas
Watch NADA Academy Overview
All-New: NADA Engage
Your next opportunity for professional development.

Interact with a group of non-competitive peers in a virtual environment to explore ways to improve your bottom line.

Meetings are facilitated by NADA automotive subject matter experts utilizing NADA's exclusive financial composite and all-new NADA Analytics digital composite to drive discussions.
 
Explore Other Education & Consulting Resources