NADA Academy program prepares current and future dealership leaders to operate a successful and profitable automotive business, while examining the latest in industry trends and technology.
Image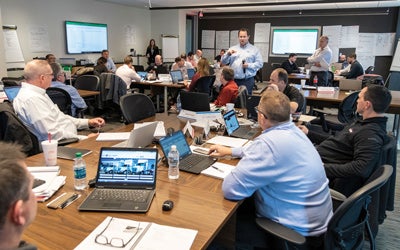 Academy program includes either six one-week classroom sessions or six month-long live online sessions, once or twice a week, over the course of a year. The sessions are taught by industry experts, with hands-on practical application in each area of the dealership. In this process, you will develop an end-to-end view of business and dealership operations.
Image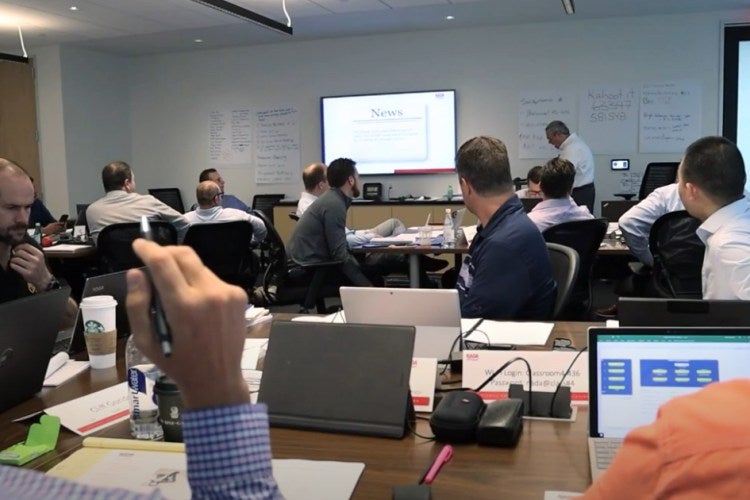 Dealership managers may attend any of Academy classes and hone skills pertinent to their needs.
Tim, Service Manager
30 years automotive experience
Learning about the DISC model, helped me to find my strong points and weakness and what improvement is needed. Also dealing with different personalities.
Roger, Service Manager
22 years automotive experience
Georgia, my instructor, was very engaging and made the course easy to understand.
Ronson, Service Advisor
5 years automotive experience
Being an advisor, this was a lot to take in and I absolutely wouldn't change it! Georgia was amazing and very personable. Thank you!
Highly recommend, the interaction with the instructors was awesome. I will take what I have learned and put it to use on day one. Thank you for all your help.
John, Service Manager
33 years automotive experience
Was a great experience, lots of great information. Looking forward to the next class.
Dwayne, Service Manager
31 years automotive experience
Enjoyed class and was very informative.  Would like to see extended another day to get even more info. I feel as a manager or possible manager, this should be a required class. To be successful you need tools, and this is that tool.  Great class!!
Blair, Service Manager
3 years automotive experience
Amazing class and instructor that will definitely shape my future and the success I can bring to my dealership. A game changer for your managers!
Learn financial management principles and how to navigate the balance sheet, income statement and gross profit analysis at both the dealership and department levels. Interpret and analyze financial statements to identify performance improvement opportunities.
AGENDA
Financial Statement Geography

Basic Accounting Concepts

Maximizing cash and profit

Calculating Fixed and Total Absorption

Importance of Cash Flow & Liquidity

Identifying and Eliminating Frozen Capital

Optimization and Evaluating Inventory Performance

Analyzing Sales and Gross Profit

Identify Expense Control Opportunities

How Work In Process (WIP) … works

Goal Setting and Problem-Solving Tools

Introduction to the NADA 20 Group Composite
Unleash the profit potential of your 2nd largest inventory investment by challenging the Parts industry with innovative improvement processes. Discover best practices in this student-centered Parts training to optimize your inventory mix and its impact on other departments.
AGENDA
Analyzing inventory performance

Aging inventory

Assessing gross profit opportunities

Benefits of the correct mix of parts

First-time fill rate

Understanding DMS reports

Reconciling inventory

Sharing best ideas
Understand the importance of the service department and how it serves as the backbone of the dealership. Recognize the impact properly designed processes have on both the service department and the entire dealership's financial performance.
AGENDA
Assessing gross profit opportunities

Analyzing labor pricing strategies

Evaluating technician and service advisor performance

Optimizing production and scheduling techniques

Linking telephone strategies to service sales

Exploring service legalese

Sharing best ideas
04
Vehicle Inventory and Marketing Management
Explore inventory management using an investment approach, and analyze effective cutting-edge marketing strategies and website efficiency.
AGENDA
New and pre-owned vehicle department profitability and inventory aging analysis

Appraising, reconditioning, sourcing, pricing and wholesaling to maximize turn

Evaluating the relationship between volume and gross

Digital marketing, including SEO, SEM, conversion, mobile, analytics, reputation management and video

Converting leads to sales
Delve into the critical processes that drive customer and employee retention, sales, and F&I to improve profitability.
AGENDA
Determining true profitability

Identifying F&I opportunities

Assessing compensation and benefits utilizing NADA Dealership Workforce Study

Recruiting and developing employees

Valuing and leveraging the customer base

Non-present buyer

Legislative Affairs briefing
Discover your individual leadership and management style and its impact on others. Apply the knowledge and skills gained during the first five weeks of the Academy to best select and develop your team for the continuity of the business.
AGENDA
Completion of an individual leadership assessment profile

Understanding effective leadership theories and techniques

Blend of succession and management transition planning

Detect and prevent fraud in the dealerships
Watch NADA Academy Overview
The Auto Industry Event of the Year
Image