Image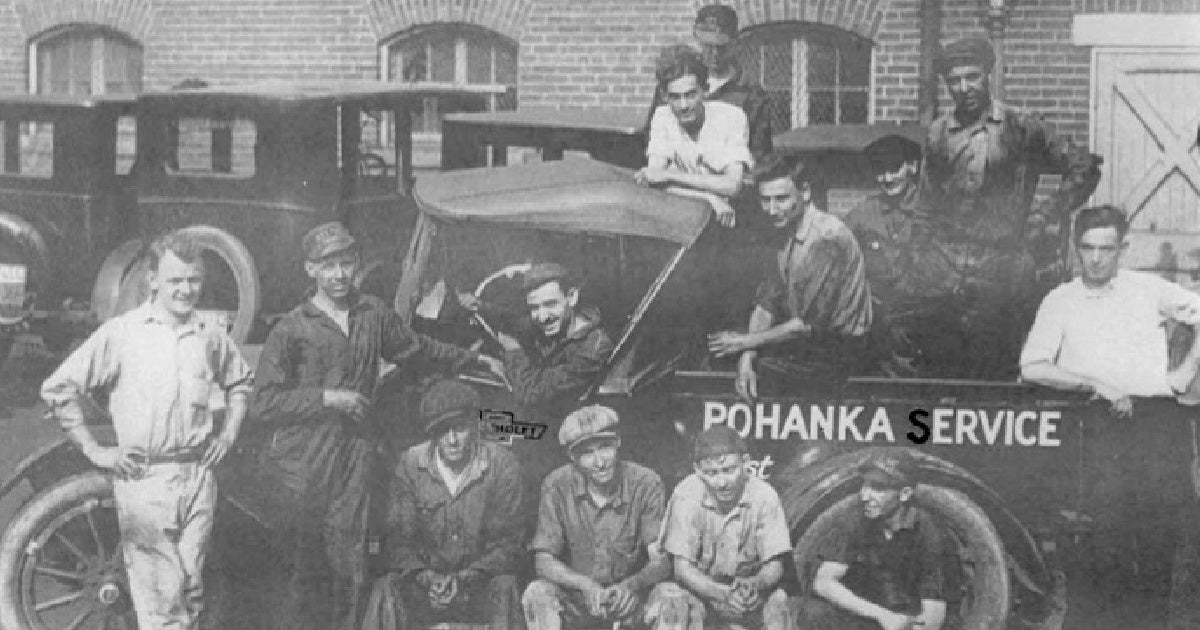 Frank S. Pohanka was born in the Bronx, N.Y., in 1891. He ran away from home while in the eighth grade and found a job after just one day at the Whitney Stables horse farm in Sheepshead Bay on Long Island, earning $15 a month—a great sum at the time—with free board. Frank started as a stable/exercise boy, but soon became a successful jockey, racing horses across North America. His first race was in the fall of 1906 riding Calabash in Saratoga.
Success quickly followed, with Frank earning $15,000 in winnings over his five-year career. While he had the stature for the role being 5 feet 5 inches tall, Frank couldn't maintain the proper weight and had to retire from the sport.
By the age of 20, Frank left his racing connections behind, moved back to New York City and enrolled in an automotive mechanic school. He also read every book the city library had on automobiles. After graduating from mechanic's school, Frank became a mechanic's helper in a Manhattan garage, working nine hours a day, six days a week and earning $5 a week. But Frank was a fast learner, ambitious and loved what he did. His pay quickly rose to $14 a week.
To really test his abilities, Frank quit his job with New York Motors, then went to work for Packard and a string of other manufacturers. Each step of the way, he stayed long enough to learn the specific problems of each type of car. By 1914, Frank was a true master mechanic. Chevrolet/General Motors hired him as a troubleshooter to travel the East Coast solving service problems.
NYC to DC
It was during this time that Frank met his wife, Charlotte Ruff, a fellow New Yorker. After a few years, he seized the opportunity to be a service manager of the newly opened Chevrolet factory branch in Washington, D.C. In October 1916, Frank and Charlotte moved to the nation's capital.
Even though Frank was happy, he yearned for a shop of his own. Meanwhile, Charlotte contributed to their savings by working at the Department of Labor. On June 2, 1919, their dreams were realized when Frank opened his first dealership at Ward Place, where he sold and serviced Chevrolets. Frank quickly established a reputation as a master mechanic and service consultant, and for 30 years he called his company "Pohanka Service" to emphasize his expertise. In 1923, Frank moved the dealership a few blocks away and added an Oldsmobile franchise. He converted a movie theater into a three-car showroom and an old livery stable into a repair shop. The business grew as the list of satisfied customers increased, but with growth came some headaches. That's why Frank was more than happy when his sons, Frank Jr. and John, joined the business after obtaining their college degrees.
NADA and Industry Connections
After Frank's death in 1958, John became the dealer principal at age 29. Desperate to learn all he could about the business side of the auto industry, John reached out to NADA—which was conveniently located just a few blocks away. Since then, the Pohanka family has been closely involved with the association. John would go on to be the 1976 NADA chairman, with his son, Geoffrey, serving as 2023 chairman.
John was a founder and chairman of the National Institute for Service Excellence (ASE), which tests and certifies auto technicians nationally. He also founded and was the first chairman of the National Automobile Technicians Education Foundation, which evaluates and certifies automotive curricula in the country's vocational schools.
From John to Geoff
In 1967, John relocated the dealership to the suburbs in Marlow Heights, Md. He soon started acquiring more franchises and locations.
Geoff was 13 when he began working in the family business during summers in the 1970s. He attended Colgate University and planned to attend business school, but his father recommended that he first work two years full-time in the dealership, which included Fiat, Honda and Oldsmobile at the time.
"We sold a lot of cars but had a very poor service department, which nearly drove me from the business," Geoff says.
Geoff told his father he would prefer to do something else career-wise, but John asked his son to attend a month-long training program at the General Motors Institute in Flint, Mich. There, Geoff wrote a comprehensive report about what needed to be done to fix the family business. John liked it so much he asked Geoff to stay on and implement changes to the fixed operations department. Geoff accepted and the rest, as they say, is history.
Modern Day
Geoff served on the NADA Board of Directors from 2021-2009, then left to relocate three of his legacy dealerships to Capitol Heights, Md. There, the fourth generation of Pohankas have worked their way up into management positions. Geoff's daughter, Laura, is service manager of Pohanka Volkswagen, while his son, Kevin, serves as used car director of Pohanka Honda/Hyundai/Volkswagen.
Today, the Pohanka Automotive Group has 20 locations in Maryland, Texas and Virginia, and was ranked 34th on Automotive News' list of the nation's top 150 dealership groups in 2021.
Learn more about Pohanka dealership history at www.pohanka.com/pohankas-story.
Watch a video about the life of dealership founder Frank Pohanka
For more stories like this, bookmark www.NADAheadlines.org as a favorite in the browser of your choice and subscribe to our newsletter here:
Image