Image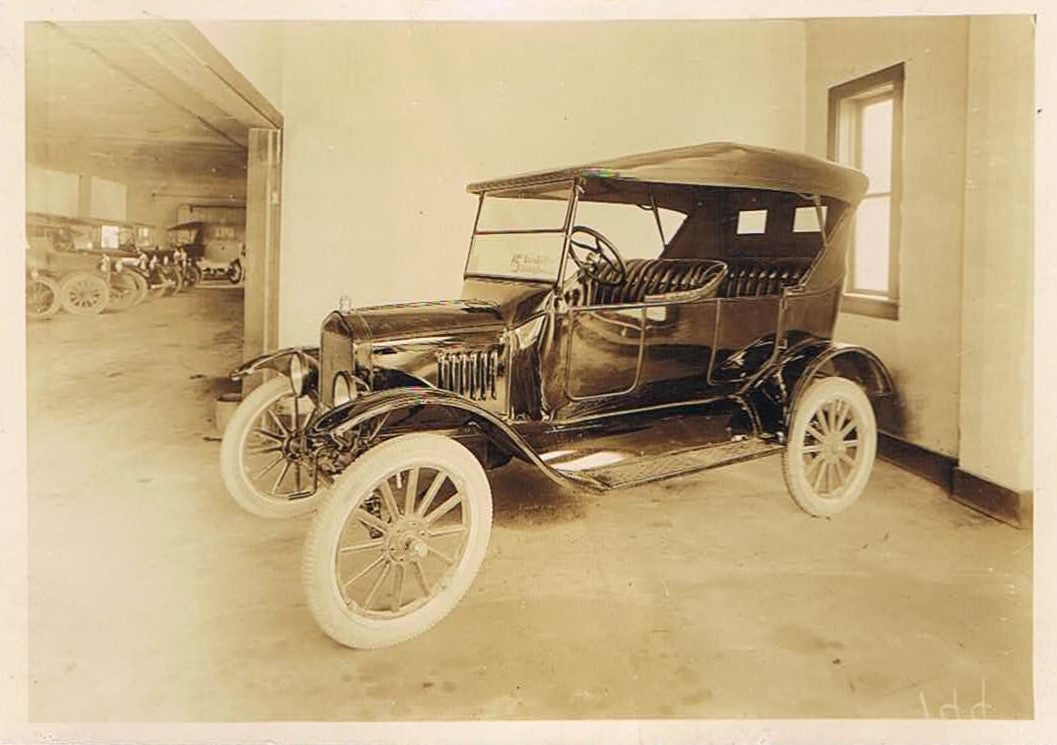 In 1916, at the age of 38, Edwin B. Moats left his jobs farming and working for the B&O Railroad and decided to sell Allen automobiles being assembled about 70 miles east of his hometown of Sherwood, Ohio.
Around the same time, Albert and Finn McCord received the agency to sell Ford products in the Sherwood area. However, they quickly decided to sell the new business and its large wood-frame building to employees Andrew and Mable Weippert. The Weipperts soon put their mark on the new business, tearing down the wooden building and building a 66-by-132-foot brick edifice to sell Ford products.
The couple soon realized they needed help and formed a partnership with Moats called Weippert and Moats. (The same brick building is still used by Moats Ford today.)
Moats eventually bought out the Weipperts, and the business prospered by selling Model T cars, trucks and Fordson tractors. The tractors fetched many interesting trade-ins, including horses, cows and hogs.
Back then, tractors were shipped by railcar and put together by dealership staff at the railhead in Sherwood. When Model T's were completely assembled at the Ford factory, a dealership employee would travel with the customer to Detroit and drive the cars home. This was necessary because most people had no previous driving experience. Moats' largest sale in those days was for 23 Model T's.
At the beginning of 1926, Edwin Moats died suddenly at age 48. His oldest son, Paul E., dropped out of medical college in Cincinnati to come home and operate the business and maintain the family home.
That same year, Ford announced that it would stop building Model T's and would soon produce a new model, the Model A, which proved to be an excellent seller during its life span from 1927 to 1932. (The 1932 Coupe was the first Model A to have a V8 engine.) The business was successful and hummed along until World War II, when automobile production was halted to build military vehicles and airplanes. On the plus side, Paul was able to take over the Ford Ferguson contract for the entire county of Defiance.
Under Paul's leadership, the dealership grew and prospered. He raised two sons: John, who became a doctor like his father had hoped to be, and Mark, who decided to go into the family business.
Making Their Mark
"I went to my first new-car intro in 1957 when I was a junior in high school," says Mark. "I was enamored with it." He still has memorabilia from that first show and the many others that followed in his archives.
Mark's auto career began like many other children of auto dealers: by helping out around the dealership during high school. After high school graduation, he went to college and served in the Army before coming back home and working with his father at the dealership.
Mark had a few years of management experience under his belt when, in the early 1970s, Ford refused to renew the franchise for Sherwood, saying that the town, with its population of 500-600, was too small. Another challenge for selling Fords in the area was that the GM foundry—one of the biggest ironworks in the country—was based in the nearby, more populous town of Defiance. In fact, three Ford operators in Defiance went bankrupt before Paul and Mark sought to purchase the Defiance dealership.
"We found ways to lower our overhead and we made it work," Mark says.
Ford Motor Co. was so impressed by the Moats' proposal for the Defiance dealership that they not only accepted their offer, but also let them keep their Sherwood location as a branch of the Defiance store. On June 1, 1971, the corporation began doing business as Mark Moats Ford, Inc., with Paul, now 67 years old, and Mark, 29, as owners.
A Family Affair
"Having my father there to talk to and seek advice from was invaluable," Mark says. "It's kind of like the relationship I have now with my son, Wes. We sometimes may not agree, but we figure it out and get it done."
In 1979, Paul retired from the Sherwood Ford store and Mark assumed the duties of president. Mark put in long hours as both the sales manager and dealer to limit the company's overhead in tough economic times.
Wes Moats is the fourth-generation dealer principal in the family. Like his father before him, he volunteers a lot in the community, as a board member of Sherwood State Bank, as head of the local Masonic Lodge and as a member of the Defiance City Schools Board of Education. And in his spare time, he's a marathon runner. One of Wes' sons, Colin, may become the fifth generation to lead Moats Ford. He's currently attending the University of Findlay, majoring in business administration, and has experience in sales and parts, having worked in the dealership over the past several years.
Celebrating History
Mark is a meticulous recordkeeper. So much so that in 2004, at his wife's request to "get rid of that stuff" in their family home, he built a 50-by-100-foot building behind the Defiance location to use as a museum to store his records and historical items. He also has 10 cars on display, including a 1916 Model T, a 1930 Model A and a 1962 Galaxie Sunliner convertible. He hopes to add a 1960s Mustang to the collection at some point ("Those flew," he says of Mustang's brisk sales back then). In addition, Mark has old paper records of sales from the dealership going back decades.
Every year, local 5th and 6th grade students come by to tour the museum and learn some automobile history up close. Here they can hold original Babbitt alloy bearings, the coils from a Model T, or look up sales slips for Fords their ancestors purchased.
"We have great loyalty among our customers, an abundance of goodwill and a great reputation in the community," Mark says. "All of which has sustained us over the years."
Link to dealership's history page: https://www.markmoatsford.com/dealership/100-years.htm.
For more stories like this, bookmark www.NADAheadlines.org as a favorite in the browser of your choice and subscribe to our newsletter here: