Gary Rome, president of Gary Rome Hyundai and Gary Rome Kia, in Holyoke, Mass., was named the 2023 TIME Dealer of the Year during an awards ceremony hosted at NADA Show 2023 in Dallas. The award, sponsored by Ally Financial, celebrates franchised new-car dealers for exceptional business performance and outstanding community service. Rome was chosen among a field of 48 dealer nominees from across the country.
"It's amazing to me that I get to receive this honor for doing something I love doing day in and day out," says Rome.
"It's more about our team and what they do every single day to support this. We pick charities and initiatives that they are invested in. It's so much more about writing a check; it's about being actively involved."
Dealers are nominated by members of the Automotive Trade Association Executives. A panel composed of faculty from the Tauber Institute for Global Operations at the University of Michigan chooses TIME Dealer of the Year finalists and winner.
 
Image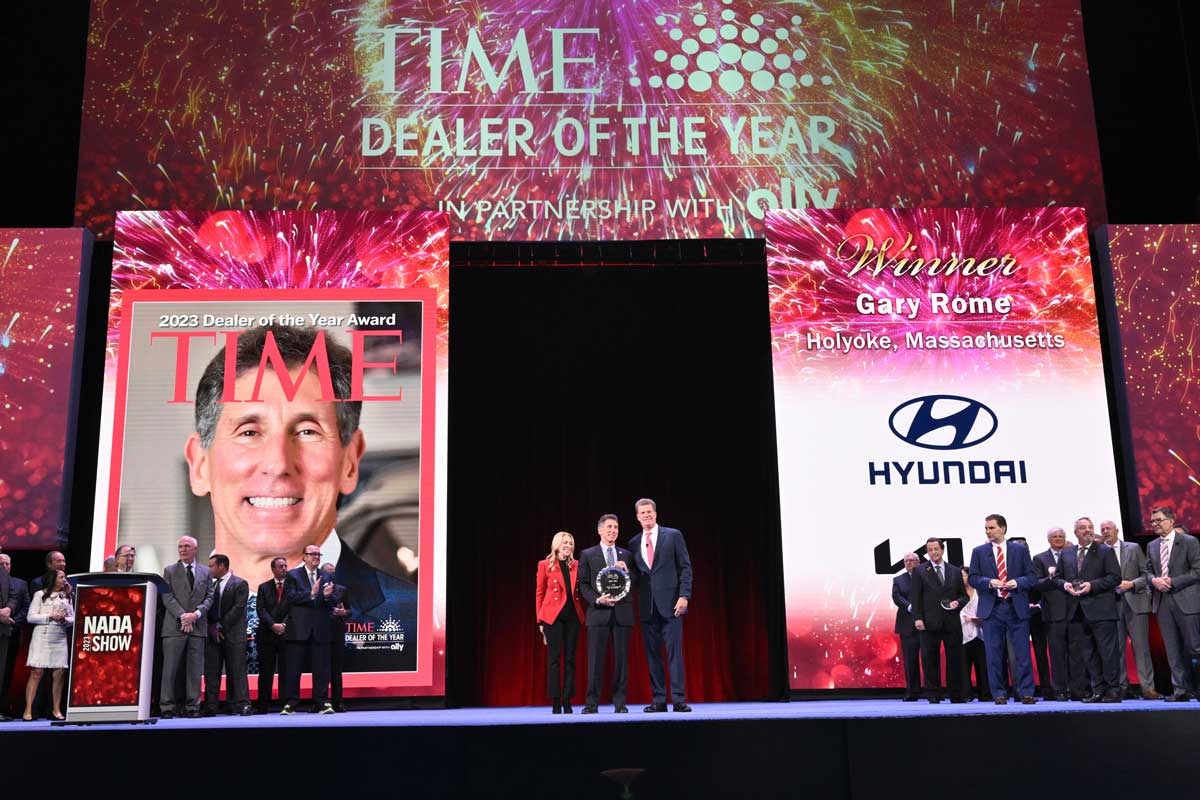 Regional finalists were:
Mark Brickey, dealer of Sand Mountain Toyota (Albertville, Ala.)

Bruce Daniels, director of operations for Honda of Marysville (Marysville, Ohio)

Tim Hutcherson, president/general manager of Downey Nissan (Downey, Calif.)
Rome was nominated by Robert O'Koniewski, executive vice president of the Massachusetts State Automobile Dealers Association.
Rome parlays his local celebrity and media connections to benefit numerous groups and organizations. He sells stuffed animal "Jack Rome" dog dolls at the dealership with the proceeds donated to the Dana-Farber Cancer Institute's Jimmy Fund. For his Drive Pink campaign, he donates $5 for every pink license plate frame installed on a car, raising money for breast cancer research.
He was recently named eastern region board member for Hyundai Hope on Wheels, the initiative that raises funds for pediatric cancer research. He initiated a month-long awareness campaign with local ABC, CBS and Fox affiliates where the weather was broadcast live alongside the local dealers and the Hyundai Hope on Wheels vehicle during the month of September, childhood cancer awareness month.
He is also actively involved in groups that better the city of Holyoke and his neighbors. Rome is a board member for the Holyoke Community College Foundation and tri-chairman of the College's $15 million campaign. He supports the Greater Holyoke Chamber; Ronald McDonald House of Springfield; Holyoke High School Dean Campus; Children's Museum at Holyoke; Homework House of Holyoke; and many others. He also hosts events at his dealership locations, including fundraisers, pinewood derbies, cornhole tournaments, supply drives and farmers markets, all to benefit nonprofits and foster community engagement.
He says his most rewarding contribution is the Gary Rome Academic Achievement Award of a Brand New Hyundai Car Giveaway, an annual program that rewards one deserving Holyoke High School senior with a new car based on their grades, attendance, behavior and participation in extracurricular activities.
As the award's exclusive sponsor, Ally will give $10,000 to the charity of Rome's choice. Additionally, Ally will contribute $5,000 to each of the three regional finalists' charities of choice, as well as $1,000 to the charities of choice for each of the 48 nominees.
To learn more about each of the 2023 TIME Dealer of the Year nominees, their philanthropic contributions and achievements, visit TIMEdealeroftheyear.com.