Image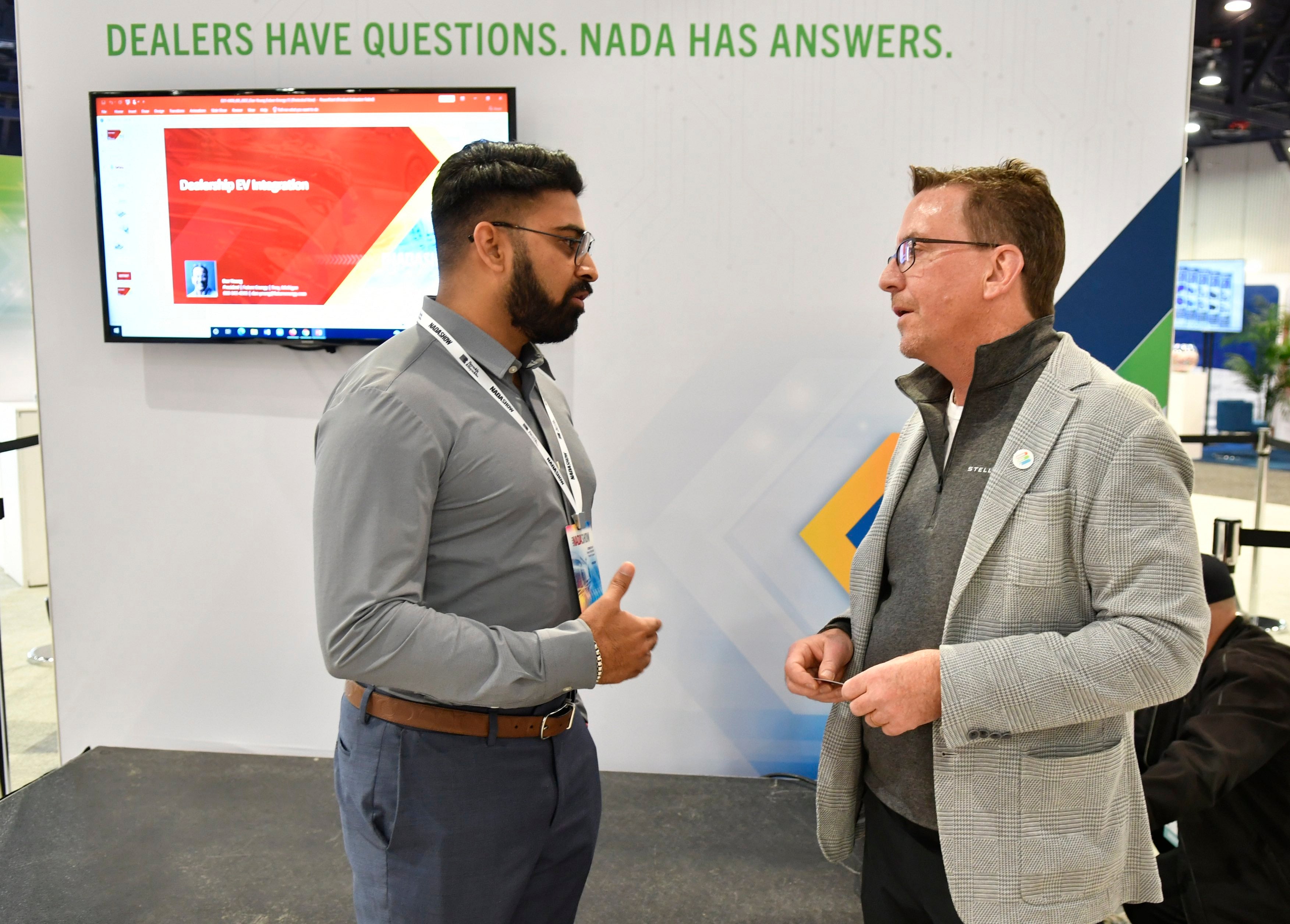 EV Solutions Center
BOOTH #7031
This popular onsite experience is enhanced and expanded for 2023, to accommodate the growing number of dealers looking tor guidance and solutions as they navigate their EV challenges. In addition to networking and sharing with your industry colleagues, you'll find subject matter experts on hand for one-on-one Q&A consultations. Daily mini sessions will tackle some of the most requested EV topics. You have EV questions? NADA has the answers.
Friday, January 27
10:00am
"Electric Utility Supply Disruption"
Dan Young, President, Future Energy
11:30am
"Roadmap to EV Readiness"
Stephanie Valdez Streaty, Director of Research & Development, Cox Automotive Mobility
1:00pm
"Selling EVs is easy, even in Texas!"
Richard "Buzz" Smith, Founder, The EV-Angelist
2:30pm
"Ready to transition from ICE to EV?"
Nigel Zeid, EV Educator, EV Transformotion
Saturday, January 28
10:00am 
"Understanding the Disconnect Between Incentive Programs and the EV Customer"
Vaasha Lutchman, Director of Dealerships & Fleets, Center of Sustainable Energy
11:30am
"Planning for Equitable Access of EV Charging"
Zachary Henkin, Director of EV Program Research, Center for Sustainable Energy
1:00pm
"Charge Up Your Dealership Operation to Get Ready for the Transition to EVs"
John Thomas, Chief Operating Officer, Autel Energy North America
2:30pm
"The Future of Fueling: How EV Charging Changes Vehicle Ownership"
Matt Teske, CEO, Chargeway
Sunday, January 29
11:30am
"Plugging Into the new EV Tax Credits"
Andrew Koblenz, Executive Vice President, Legal & Regulatory Affairs and General Counsel, NADA
Electric Avenue Display Highlights Women in EV
LOBBY A LEVEL 2
NADA salutes women – from multiple OEM brands – who are driving the EV revolution of the auto industry. Enjoy an interactive display to learn these women's stories and about the important part they play in pushing the auto industry into the future. Coming trom different backgrounds and walks of life, these visionaries are united in their passion for the energy transition movement, and its impact on our lives and our planet.
Plus, don't miss these workshops that focus on EVs:
Getting Into the Business of Electricity
Thursday, January 26: 2:30-3:30pm – D167

Saturday, January 28: 9-10am – C145
Key Insights Into EV Markets and Buyers
Thursday, January 26: 4-5pm – D161
How EVs Will Change Fixed Operations
Friday, January 27: 10:30-11:30am – D174

Saturday, January 28: 10:30-11:30am – C146
Plugging Into the New Federal EV Tax Credits
Saturday, January 28: 9-10am – D173

Saturday, January 28: 10:30-11:30am – C155
EVolve: The Transformation to Electrification
Sunday, January 29: 10:30-11:30am – C147