White Bear Mitsubishi's general manager and owner Richard Herod III has made a habit of stepping up:
As a dealer, he serves on the Mitsubishi Motors of North America's National Advisory Board.
As a Minnesotan, he is a community advocate on the local and state levels, earning multiple recognitions and honors for his leadership and service.
As a gay man, he works to make each space he influences open and affirming to all.
Image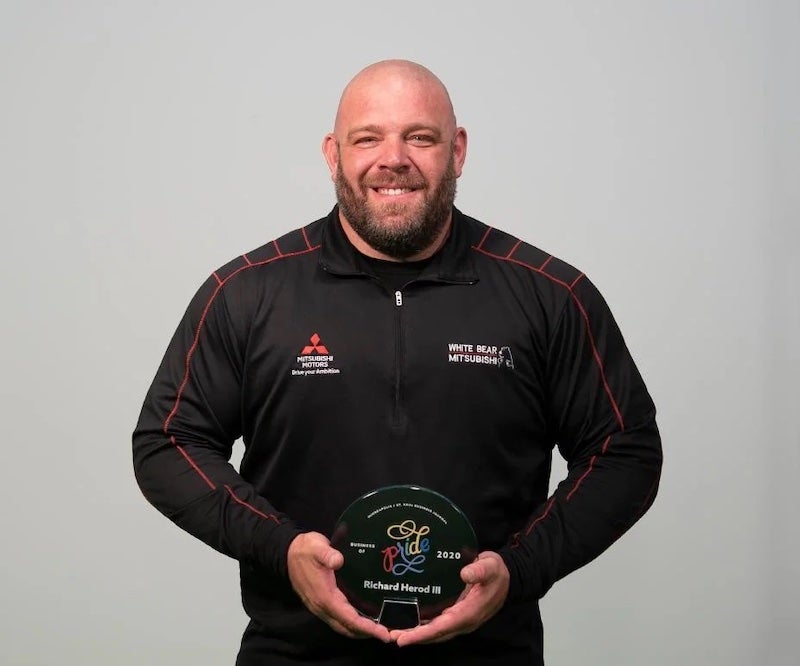 NADA Executive Director of External Affairs and Public Policy Myra Dandridge spoke with Richard to learn more about his career and his LGBTQ+ advocacy in celebration of Pride Month:
What led you to a career in automotive retail?
I told my babysitter when I was 8 years old that I was going to own a car dealership. As a kid, I wanted to be a car designer. I was so obsessed with cars. I would draw cars; I would collect matchbox cars.
When I was in high school, I wrote a paper on "Is Saturn a different kind of car company?" My professor ended up buying a Saturn after reading my paper so, I thought maybe I should go work at Saturn.
I was working at a gas station part-time and saw a newspaper ad for a cashier at a Saturn dealership, and I have worked here for 27 years. In 2010, this dealership became Mitsubishi.
Where did you find the support and inspiration as an openly gay man to thrive in your career?
When I came out 26 years ago, there weren't a lot of gay executives or gay car dealers. I'm one of the first openly gay car dealers in the upper Midwest.
I would say that I was very scared at the beginning with being who I am with my passion. I didn't perceive the car business as being that open and affirming to, at that time, what was a significantly alternative lifestyle.
My then-boss, now current business partner, gave me a lot of latitude in exploring ways that we could incorporate diversity. He nurtured my passion for both diversity and cars and allowed me to be the face of diversity for Saturn in the Twin Cities. Working for a forward-thinking organization has made that a lot easier.
How is your dealership involved in the community?
We give 10% of our net profits to charity. We sponsor Clare Housing. We sponsor St. Paul Pride, Minneapolis Pride. We sponsor so many events in the community, everything we can, because we want to be part of the goodness in other people's lives.
How do you incorporate diversity and inclusion at your dealership?
We have a quite a handful of people in the LGTBQ community in management and leadership positions in this company.
One of the things I've learned is there are a lot of things you can do in terms of intentionality, pronoun choice, everything to ensure you have employees that feel comfortable, safe, and welcome.
How do you view diversity as a business imperative?
The word intentionality comes to mind. I think that I have always strived for this to be an open and affirming workplace regardless of gender, orientation, race, religion.
If you take a look at our organization structure, our controller is a female, our internet manager is a female, our general sales manager is a female, the service manager is a female, our express lane manager is a female, our corporate counsel is a gay Asian man, our fixed operations director is a gay man.
You have to show up and you have to be willing to hire not only the best person, but you also have to say the right person for the job might be a woman or a person of color. You have to be visible. People have to know that things are different because of the makeup.