Serving Commercial Truck Dealerships
ATD, a division of NADA, is the recognized voice of commercial truck dealers and your premier source for advocacy, industry relations and education.
ATD to Host 2023 Truck Industry Forum and Legislative Fly-In in June
The inaugural ATD Truck Industry Forum will feature key business leaders offering their views on the challenges and opportunities facing the retail truck industry, as well as expert speakers discussing the legislative and regulatory policy landscape. 
The 2023 ATD Truck Industry Forum, open to all industry stakeholders, will delve into the most important issues impacting the retail trucking industry today.
The ATD Legislative Fly-In, to be held in conjunction with the forum, will include congressional visits for ATD members and ATAEs so your voice can be heard in the halls of Congress.
Highlights from the 2022 ATD Legislative Fly-In
ATD Releases Performance Measurement 2023
ATD Performance Measurement 2023 provides medium- and heavy-duty truck dealers with relative comparative performance guides, including overall dealership performance and departmental information for sales, service, parts, and body shop.
The report, based on 2022 data, covers a variety of challenges faced by commercial truck dealers, including:
Truck chassis and body production issues and delays, and their impact on factory allocations.

Used-truck value depreciation.

Parts shortages and supply-chain issues that caused repair delays for customers.

Limited human resource availability.

Growing government regulation.
VISION
ATD, a division of NADA, is the recognized voice of commercial truck dealers and their premier source for advocacy, industry relations, and education.  ATD membership is integral to dealers' business.
MISSION
To serve and represent the specific needs of franchised commercial truck dealer members through federal advocacy, industry relations, education and other services.
CORE VALUES
ATD members value integrity, participation, professionalism, advocacy and community.
 
Image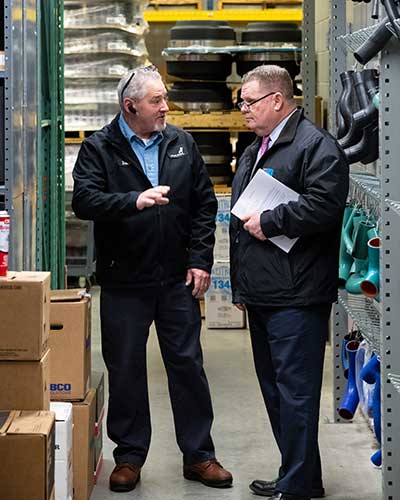 ATD offers premier educational opportunities, in-depth training, and first-class consulting to help you and your entire dealership succeed.
Explore over 500 pieces of educational content in our Resource Center
Register for seminars and other classes
Enroll in ATD Academy to become world-class leaders
Newest Driven Management Guides
Driven Management Guides cover a wide variety of topics critical to dealership operations. ATD Members can search and download more than 70 guides on various topics in PDF format.
ATD, the "Voice of the Dealer," has represented the interests of franchised medium- and heavy-duty truck dealerships, their employees and their customers since 1970. ATD continues to work on behalf of its members with all branches of government, truck manufacturers, the media and the public.