NADA Names Jonathan Collegio as New Head of Public Affairs
AWARD-WINNING PUBLIC AFFAIRS EXECUTIVE TO RUN NADA'S COMMUNICATIONS AND MARKETING EFFORTS STARTING MARCH 21.
McLEAN, Va. (March 5, 2014) - Jonathan Collegio was named vice president of public affairs for the National Automobile Dealers Association. Collegio will report to NADA President Peter Welch, and is responsible for the organization's communications and marketing efforts.

"NADA is working to take our communications efforts to the next level, and hiring Jonathan Collegio to run our public affairs division is a great step forward," said Welch. "Collegio is one of the sharpest, most well-regarded and well-connected public affairs and communications executives in the country, and we are excited to have him join our team."

Collegio, who was named Public Affairs Executive of the Year by PR News in 2009, has extensive experience in public affairs spanning both political and corporate work. He starts at NADA on March 21.

"America's new-car and -truck dealers are the most entrepreneurial and hard-working business owners in the country," said Collegio. "Their products keep America moving; their good-paying jobs propel local economies, and it is an honor to advocate on their behalf."

Since 2010, Collegio has served as communications director for American Crossroads in Washington, D.C., the largest Republican "Super PAC." As one of the group's first hires, Collegio built its communications department and has been one of Washington's most quoted spokespeople over the last several years.

Collegio previously served as vice president of strategic initiatives for the National Association of Broadcasters. There, he designed and implemented the television industry's multiplatform $1.2 billion digital television (DTV) transition public affairs campaign, and managed the DTV Transition Coalition of more than 240 organizations supporting the transition. He later directed grassroots lobbying for the broadcast radio and television industries.

Earlier in his career, Collegio served as chief spokesman for the U.S. House Republicans during the 2006 elections, and as deputy chief of staff for Congressman Patrick McHenry (R-N.C.), now chairman of the House Financial Services Subcommittee on Oversight and Investigations. He has worked on dozens of political campaigns at the federal, state and local levels.

Collegio earned his master's degree in public affairs from Rutgers University, where he was a graduate fellow at the Eagleton Institute of Politics. He graduated Phi Beta Kappa from the University of Oregon in 1999. He lives in Falls Church, Virginia, with his wife, Rebecca, and their three children.
Media Contacts
Image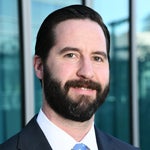 Jared Allen
Vice President, Communications