NADA Hires Jared Allen as Senior Director of Media Relations
ALLEN TO BECOME SPOKESPERSON, JOINING JONATHAN COLLEGIO AT NADA PUBLIC AFFAIRS

McLEAN, Va. (Feb. 24, 2015) - The National Automobile Dealers Association today announced that it has hired Jared Allen, a veteran communications professional and former journalist, as its senior director of media relations.

In this position, Allen will help build out NADA's communications and marketing efforts, and will serve as the organization's primary spokesperson on policy issues. Allen will report to NADA's Vice President of Public Affairs Jonathan Collegio, who joined NADA to lead its Public Affairs division in March 2014.

"Having a media relations director who intimately understands the news business and who is so well-rounded in public relations is a key component of our Public Affairs strategy, so we're delighted that Jared has joined our communication's team," said NADA President Peter Welch. "Jared brings a wealth of resources that will greatly enhance our ability to effectively advocate on behalf of our 16,200 members at a very critical time."

Allen comes to NADA with more than 10 years of combined experience strategic communications, journalism and public affairs. Throughout his career, he has provided leading counsel in the areas of corporate communications and reputational management, issues management, media relations, digital engagement, crisis communications and litigation communications.

Prior to joining NADA, Allen was a Vice President at Levick Communications, where he managed litigation- and crisis-communications accounts while helping the firm grow its public affairs practice. While at Levick, Allen designed and implemented communications plans that helped a number of clients engaged in litigation or crises also successfully overcome threats to their reputation and standing with regulators.

Allen also previously served as a Director at FTI Consulting. At FTI, Allen provided continuous strategic, content-development, editorial and media-placement support for clients, particularly within FTI's Energy and Natural Resources Practice, and served as an on-the-record spokesperson for Transocean Deepwater Drilling during the 2010 Gulf oil spill trial.

Prior to joining FTI in 2010, Allen was a staff writer for The Hill newspaper during one of busiest legislative cycles in history, covering Congressional intervention into the auto industry, financial regulatory reform, climate change legislation and healthcare reform. He is the recipient of multiple professional journalism awards, including Society of Professional Journalists' "Dateline" awards for general news and investigative reporting.

Allen earned his master's degree from the Columbia University School of Journalism, where he received the Sevellon Brown Graduate Award for practicing ideal ethics and for demonstrating exceptional knowledge and understanding of the history of American journalism. He holds a Bachelor of Arts in Political Science from the University of Connecticut.

Allen lives in Washington, D.C., with his wife, Jackie Kucinich, who is the senior politics editor at The Daily Beast.
Media Contacts
Image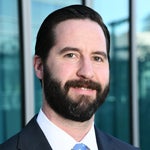 Jared Allen
Vice President, Communications