The dealership service department has often been considered a "man's world," but women have been breaking that stereotype in increasing numbers. Two women from the McGovern Auto Group, which has locations in Massachusetts, New York, and New Hampshire, shared what drew them to their careers in the service department. 
Image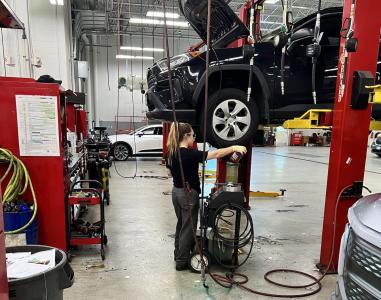 "Cars Don't Talk Back"
Stephanie Hanlon wanted a job that matched her personality, so when she applied for a dealership position, she knew she wanted to be working with the vehicles.
"I'm not very good with people one-on-one, so cars were more of my thing," she says. "They don't' talk back."
Hanlon started with her sister as express technicians (responsible for changing oil, rotating tires, routine maintenance, etc.). Now 10 years later, she is a partial manager at Toyota of Nashua, helping to oversee the express department and supporting the senior manager. Soon she hopes to be in management full-time.
Customer-facing positions do not interest Hanlon.
"We are the man behind the curtain. [People in sales] always have to have a smile on their face while we're in the back screaming our heads off because a nut won't come off," she said. "I'm by myself. I can put my music on. I can get my jobs done and have no issues."
Hanlon works four days a week, which is full-time in her department and provides her with an income that more than supports her lifestyle. She said it's common for technicians at her store to work even three days a week.
She busts the myth that the job has physical requirements: "I'm five-foot-nothing and weigh 120 pounds. If I can do it, other women can, too."
If you are self-motivated with tough skin, Hanlon says anyone can find a place and grow a career in the service department.
Image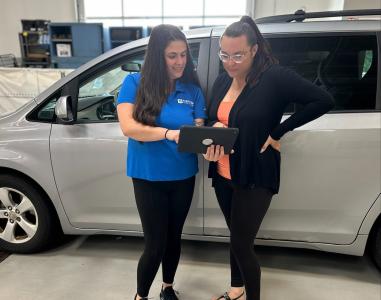 No Experience Necessary
Ten years ago, Shannon Gallant applied for a job as a porter at Toyota of Nashua. She could drive manual and had a little interest in cars, but no experience in automotive retail or working on vehicles.
Instead, the dealership offered to train her to become a technician.
"I thought they were crazy," Gallant says. "I didn't even know what an oil filter was. I was game for it, and it was really fun."
Gallant learned from scratch, everything from putting the cars on lifts to performing oil changes. Management sent her to school to get certified in general maintenance, then offered her the opportunity to get more certifications to take on more complex repairs.
Instead, Gallant pivoted to a position as a service advisor. By this time, Gallant had been a technician for six years, and she was ready to work in a more customer-facing role.
In her current role, Gallant also spends time in the recruiting and community efforts of McGovern Auto Group. She especially enjoys helping educate young women and girls about the automotive industry.
"I didn't think of automotive when I was growing up," Gallant says. "Obviously I'm a girl, and I think that's why. I loved how easy it was for me because school wasn't easy for me."
Now Gallant helps share that with the next generation. "Just because there are a lot of men in these jobs, doesn't mean you can't do it," she tells them.
For more stories like this, bookmark www.NADAheadlines.org as a favorite in the browser of your choice and subscribe to our newsletter here: