As of April 29, 2020, the United States had reached over 1 million coronavirus cases, with nearly 60,000 fatalities. Health insurance is one of the most important public necessities in a world battling a pandemic. It ranks high with food and shelter. With local governments contemplating re-opening economies and workers in desperate need of paychecks, employers must prioritize health benefits and give employees the safety and peace of mind they need to resume their lives.
Reducing costs. Improving benefits.
If it sounds like an oxymoron, it's not. In the NADA webinar, Reducing Annual Health Insurance Costs by Up To 7 Figures Within 90 Days, Russ Carpel, CEO of Level-Funded Health, discussed how business owners can balance health insurance expenses while improving medical benefits, and reducing costs by seven figures within three months. Health insurance costs are skyrocketing and are now the third-largest expense for employers. Carpel said that dealers should ask themselves three primary questions:
Are you currently fully insured?
Have you seen your premiums increase more than 10% over the past five years?
Is your current claims-to-premium ratio below 100%?
A basic fact about the health insurance landscape is that commercial health brokers tend to push the highest premium plans, resulting in the highest commissions possible. Traditional 'fully insured' health plans operate under these fundamentals:
The company pays a premium to the insurance carrier.
The premium rates are fixed until renewal based on number of employees enrolled.
The insurance carrier collects premiums and pays the health care claims based on the coverage benefits in the policy.
The covered persons are responsible to pay deductibles or co-payments.
What if there was another way?
There is. Today, there is a solution for mid-market employers who are buying fully insured plans for 100-1,000 full-time employees: Level Funded Plans. The advantages of level-funded plans for employees already enrolled in a medical benefits plan:
Less expensive
No cash flow risk compared to traditional self-funding
No additional liability (i.e. run outs)
Chance for EOY refund
How does a Level Funded health plan stack up to a traditional Fully Insured Plan?
Image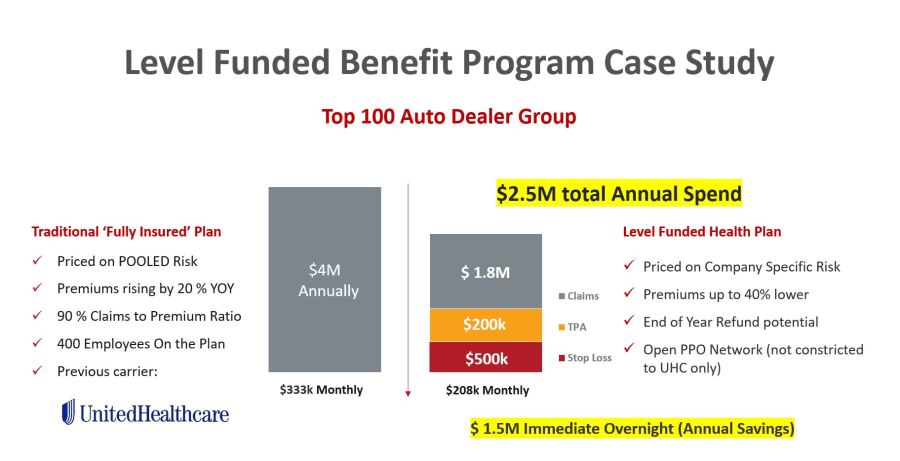 Compared to the traditional plan, the latter offers $1.5 million in annual savings just overnight. Carpel encouraged dealer groups to find out if they're candidates for this alternate plan with a CFO Estimator Form.
Dealers have incurred enormous costs during this pandemic: plummeting sales, employee layoffs and furloughs, and other operational losses. But the health of human capital is at risk…and that's a cost that's too large to bear. Dealers can curb health insurance costs and strengthen their employees' benefits package to improve their profitability and employee safety and satisfaction.
Note: NADA's webinar is offered to assist its dealer members in the operation of their dealerships and for general informational purposes only. Each dealer must seek their own legal counsel and make their own independent business decisions and work with their attorneys to ensure social media posts and advertising comply with state and federal consumer protection laws. Before attempting to sell vehicles online, dealers must consult with their attorney or state/metro dealer association or licensing authority to better understand the requirement in their state. The presentation of this information is not intended to constitute legal advice nor encourage concerted action among competitors or any other action on the part of dealers that would in any manner fix or stabilize the price or any element of the price of any good or service.