Image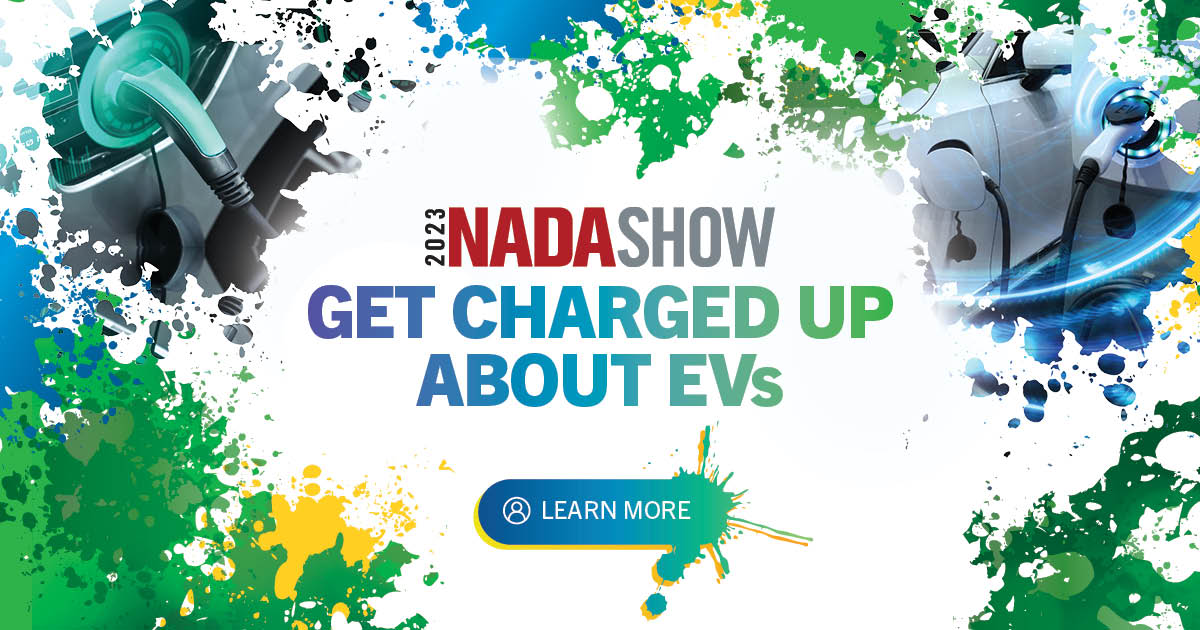 NADA is all-in on EVs! We're charged up about EVs at NADA Show 2023, and have resources to get you and your dealership prepared for this growing opportunity.
NADA Show education tackles the big issues strategically, offering dealers a fresh perspective and real-world solutions. Choose from more than 100 workshops, including these EV sessions:
Getting Into the Business of Electricity

Key Insights Into EV Markets and Buyers

How EVs Will Change Fixed Operations

Plugging Into the New Federal EV Tax Credits

EVolve: The Transition to ElectriFIcation
Plus, brainstorm and problem-solve during peer-to-peer roundtable discussions exclusively for and among U.S. auto dealers and managers. The well-received Exchange session Preparing for the Future of Electric Vehicles be offered three times, including during the popular Twilight Exchange with guest moderator Ryan Ferrero from Freedom Solar, LLC. Join us for a complimentary drink and engaging conversation!
And you can't miss Live Stage. Experience our live and lively broadcast studio at NADA Show with 30-minute segments featuring acclaimed speakers, automaker execs and other auto-retail pros in one-on-one interviews or panel discussions. Tune in for timely EV news and updates each day.
Then, visit the EV Solutions Center. This onsite experience was a big hit last year; and it is enhanced and expanded for 2023, to accommodate the growing number of dealers looking for guidance and solutions as they navigate their EV challenges. Come network with industry colleagues, and meet with subject matter experts on hand for one-on-one Q&A consultations. Ten mini sessions will tackle some of the most requested EV topics. You have EV questions? NADA has the answers. 
And make sure to peruse the Electric Avenue display that highlights women in EV. NADA salutes women — from multiple OEM brands — who are driving the EV revolution of the auto industry. Enjoy an interactive display to learn these women's stories and about the important part they play in pushing the auto industry into the future. Coming from different backgrounds and walks of life, these visionaries are united in their passion for the energy transition movement, and its impact on our lives and our planet.
NADA Show 2023 is less than six weeks away, and it's going to be electric! Register now.
For more stories like this, bookmark www.NADAheadlines.org as a favorite in the browser of your choice and subscribe to our newsletter here: