Image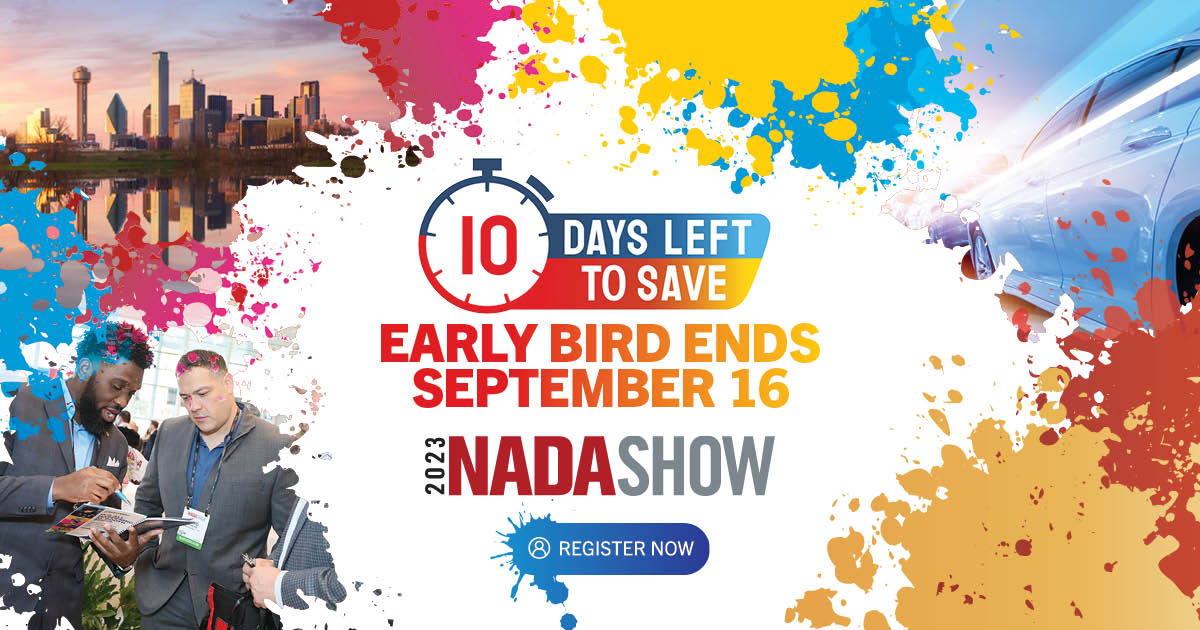 Get ready to make a splash at NADA Show 2023! We hope you plan to join us in Dallas, Jan. 26–29. Here are some of the top reasons to register today:
First and foremost, there only 10 days left to benefit from early bird pricing. Save $100 off the onsite registration price when you sign up by midnight ET on Friday, Sept. 16.
Enjoy world-class speakers and education that is multi-faceted, interactive and customizable by subject track. Learn the latest strategies and emerging trends during 100+ workshops and education sessions. Don't forget, only early bird attendees get to vote on Exchange Session topics. Choose the topics that matter most to you!
New for 2023: not one but two Super Sessions! Join us for our very first education session: The Future of Automotive Retail Roundtable, which addresses risk as an opportunity. Then, plan to stay for our final session of the Show: a supersized version of the highly acclaimed Best of the Best From NADA 20 Groups!
And you won't want to miss the Distinguished Speakers Series. Hear three unique perspectives that will help you hone your leadership skills, work with purpose and find strength in diversity.
Get further inspired by our dynamic Main Stage Speakers. Nikki Haley will reflect on her time as U.S. Ambassador to the United Nations and as the first minority, and first woman, to serve as Governor of South Carolina. Through her candor and sharp insight, Haley teaches lessons in leadership, negotiation, and decision making, while inspiring audiences to live their full potential and achieve their highest dreams. Saturday, late-night show host Greg Gutfeld will share insights and commentary with his trademark style of humor. And, on Sunday morning, hear an inspirational conversation with Pro Football Hall of Famer and Jackson State Head Coach, Deion Sanders. Learn what motivates him, and about overcoming adversity and his successful career.
Plus, there's lots more on Main Stage, including 2022 NADA Chairman Michael Alford and 2023 NADA Chairman Geoffrey Pohanka, and the TIME Dealer of the Year Award!
NADA Show offers unparalleled networking and other opportunities to advance your career. Meet directly with OEMs. Learn the latest updates and changes happening within your franchise, directly from its senior leadership.
Perhaps saving the best for last, come experience the premier marketplace of products and technology in our sold-out Expo! Engage with current providers and shop for new suppliers among 500 exhibitors across 600,000 square feet. Plus, back by popular demand, the EV Solutions Center and the Dealer Learning Lab. Take advantage of this opportunity to discover and connect with industry leaders on a variety of topics during 20-minute, TED-style presentations in a casual setting on the Expo floor.
And we'll kick it all off with the NADA Show Roundup at Gilley's! Join fellow dealers, OEMs, exhibitors and industry affiliates at this once-in-a-lifetime welcome reception features everything from armadillo races to blackjack to line-dancing, plus a performance by a Grammy-Award winning country music star!
What are you waiting for? Register today to join us for the Auto Industry Event of the Year!
See y'all in Dallas, Jan. 26–29.
For more stories like this, bookmark www.NADAheadlines.org as a favorite in the browser of your choice and subscribe to our newsletter here: