NADA and J.D. Power invite you to kick off NADA Show 2019 at the official "Escape from Alcatraz"-themed NADA Welcome Reception on January 24 at the San Francisco Marriott Marquis. Step back in time with more than 2,000 dealers, OEMs and industry leaders for a fun evening of networking and hospitality as we "Escape from Alcatraz". You'll enjoy authentic Alcatraz décor and sip tantalizing cocktails as you are fully immersed in the 'barracks of Alcatraz'.
To attend this event, you can add your ticket to your NADA Show 2019 registration, or register for the J.D. Power Auto Summit, where your ticket to the Welcome Reception is included.
Image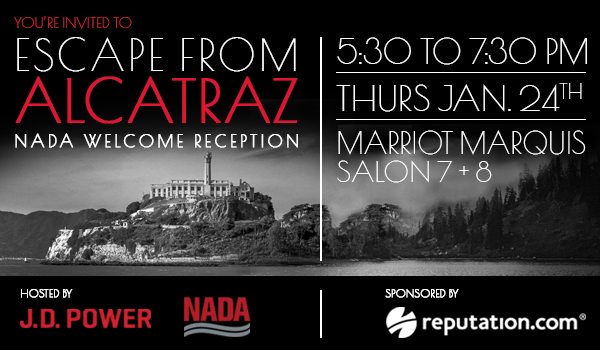 Still have questions? Contact our NADA Show registration customer service by phone at 800.465.7110. International registrants, please call 844.460.4636, or email Customer Service at nada@experient-inc.com
NADA Show 2019 takes place in San Francisco, January 24-27. There's still time to secure your spot and register today. We can't wait to see you there!