The 2023 New York Automotive Forum welcomed more than 400 attendees for a day of discussions and presentations on leading industry issues, including economic conditions, forecasts, OEM updates and the growth of electric vehicles (EVs). Hosted by NADA, J.D. Power, and the New York International Auto Show, the Forum featured insights and analysis from industry leaders and executives from General Motors, Genesis, Hyundai and Nissan.
Franchised Auto Dealers Evolving, More Important Than Ever 
Oliver Brodlieb, chairman of the Greater New York Automobile Dealers Association, set the stage for the Forum with a reminder of the role franchise dealerships play in the industry and in their local communities as employers, investors, philanthropists and entrepreneurs. Dealerships are "more than a place to buy a car," he said. "When consumers buy from local dealers, they support their local communities."
NADA Industry Relations Chairman Rob Cochran underscored the importance of sustaining and improving OEM-dealer relationships. "With the debate raging today on the EV revolution, direct sales, data sharing and more, never have our relationships been more critical to the future of this industry."
To set the tone for the OEM discussions throughout the Forum, NADA Chairman Geoffrey Pohanka called for honest conversations. After thanking the OEMs represented at the Forum that publicly support dealers, Pohanka addressed the recent tension between dealers and a few automakers undermining the franchise system. 
 
Image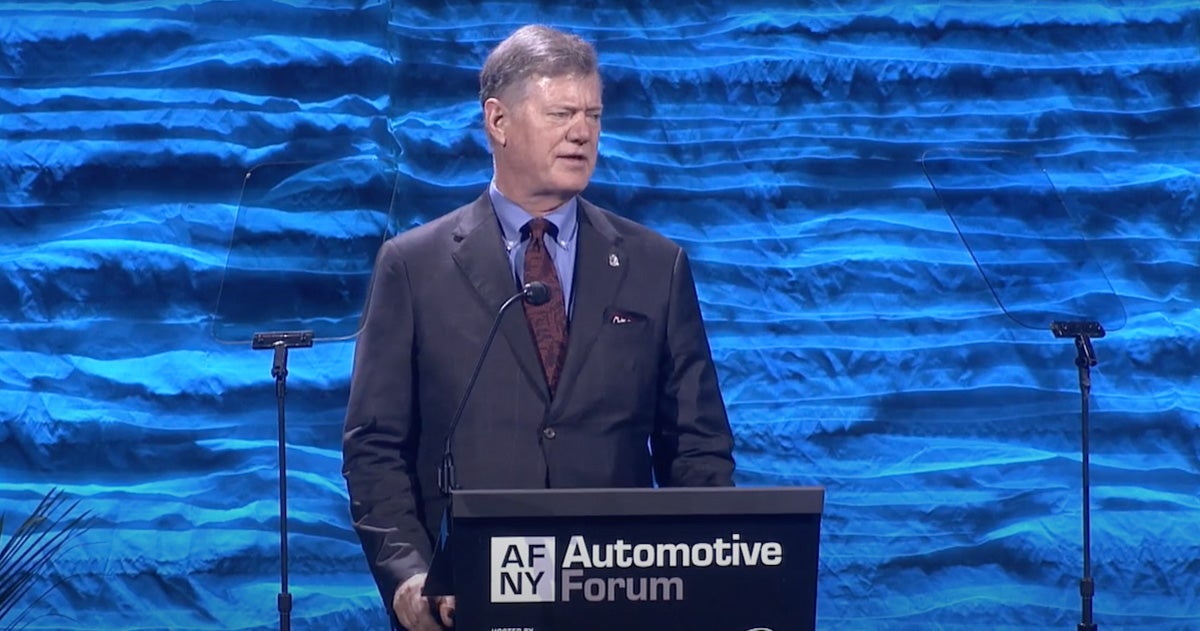 Geoffrey Pohanka
"In successful working relationships, partners do not make threats to the fundamental core of the OEM-dealer relationship. This is not the usual push-pull of cost shifts or the differences of opinion on OEM incentive programs. This is fundamentally different," Pohanka said. "Undermining the franchise system does not benefit the customer, nor does it cultivate a productive and successful dealer-OEM relationship." 
Industry Economic Outlook
Paul Gruenwald, global chief economist at S&P Global, and Thomas King, president of data and analytics division and chief product officer at J.D. Power, provided an industry forecast with anticipated 15 million total sales in 2023.  
Building Dealer and Customer Relationships
In the first C-Suite Exchange of the Forum, Genesis COO Claudia Marquez discussed the strategy around growing brand awareness, centered on their company culture where each consumer is treated as an honored guest. 
"We don't have a heritage like other brands, and that gives us some great opportunities. We're new, we're different, we're Korean," Marquez said. "We recognize the importance of taking care of dealership owners and customers. We've aligned everything with the expectations of our customers. That's why our facilities are fully immersive, like [our customers] are at home." 
Retail Marketing Strategies Today
A panel of OEM marketing executives provided perspective on the retail marketing strategies, especially for EVs. Allyson Witherspoon, corporate vice president of global marketing, brand and merchandising at Nissan U.S., said that range and power are key issues for potential EV buyers: "They don't want these vehicles to feel vastly different from their ICE vehicles."  
Angela Zepeda, chief marketing officer for Hyundai Motor America, discussed the decision to launch the IONIQ 6 during the AFC/NFC championship game instead of the Super Bowl, using Kevin Bacon and his daughter to bolster the campaign on TikTok and other social media channels. 
"From a marketing standpoint, there's a lot of people who use [TikTok]," said Zepeda. "We've adopted it from the beginning. For us, it's an audience we need to reach." 
Ringing in a New Era
Nissan Americas Chairperson Jérémie Papin discussed the company's Ambition 2030 campaign, which aims to change the way the company does business, while underscoring Nissan's commitment to technology.
"When I think about the driving pleasure of a Nissan, the thrill that comes from that, the technology and connected services that we're offering, how we think about the battery lifecycle and what it is going to allow us to do, what it's going to allow us to offer in terms of affordability — there is so much business for this industry in the future," Papin said. "That's what is so exciting at the moment."
Driving Infrastructure Towards EVs
Pohanka returned to the stage to join Elizabeth Krear, vice president of electric vehicle practice at J.D. Power; Kellen Schefter, director of electric transportation at the Edison Electric Institute; and Ryan Ferrero, national director of auto industry electrification at Freedom Solar, LLC, on a panel exploring the behind-the-scenes work of electrification: the infrastructure and utility work needed to support EVs. 
The Future of Auto Retail
Consolidation of dealerships nationwide affects all aspects of automotive retail. Automotive merger and acquisition experts discussed their expectations of the industry. 
The advantages that large automotive retail operations have over smaller retailers are not based on economies of scale, said Alan Haig, president and founder of Haig Partners, because the costs of utilities, real estate and insurance, for example, don't diminish with size. 
"The pandemic changed consumer behavior and it advanced ecommerce in the United States by a decade," Haig said. Large retailers have capitalized on this trend, offering not just brick and mortar stores, but sophisticated online shopping experiences as well. "The good news is this strategy – bricks and clicks – is not proprietary. It's not patented. It can be adopted by any retailer in this room or outside this room. The key is to grow," added Haig.
The Wall Street Perspective 
Market experts John Murphy, managing director at Bank of America Merrill Lynch, and Kevin Tynan, senior automotive analyst at Bloomberg Intelligence, analyzed the current market and projections for near future as the industry exits supply chain constraints, such as anticipated developments in operating systems through the lens of Wall Street. The panel discussion, moderated by Guggenheim Partners Senior Manager Director John Casesa, also reiterated the value of the franchise model. 
"In terms of direct sales: If you think it is difficult to deal with a manufacturer as a manufacturer, imagine dealing with them as a retailer," said Tynan.
Entering EV Launch Mode
Steve Carlisle, executive vice president and president at GM North America, spoke about the company's transition to a fully electric auto manufacturer. GM's strategy means no compromises for their customers, according to Carlisle. "We don't want the consumer to make any [trade-offs], that's the formula," Carlisle said. 
Carlisle also unscored that both dealers and consumers know that a smooth transition to electric requires infrastructure support. "I would acknowledge that we have a lot of work to do."
To learn more about New York Auto Forum, click here, and don't forget to save the date for the next Auto Forum on March 26, 2024.