Since 1959, Northwood University has stood as a pillar of excellence for countless business leaders and intrepid entrepreneurs. With a flagship campus in Midland, Mich., Northwood is the only four-year university that boasts its own international auto show, as well as unique undergraduate tracks like Automotive Marketing & Management and Entrepreneurship. For 57 years, the Northwood University International Auto Show has hosted the largest, outdoor exhibition for aftermarket companies and automotive brands. The event is held at the beginning of each academic year and has been entirely led by the student body. But students and faculty face many unknowns to the start of this academic year.
In May, a historic and devastating flood submerged homes, buildings and the livelihoods of Midland residents and Northwood students.
This natural disaster, dubbed by locals as the Flood of 2020, decimated the area when two dams along the Tittabawassee River collapsed, causing more than 20 billion gallons of water from Wixom Lake to descend upon Midland County and Northwood University.
Within hours of the dam breaking, important structures were completely or partially submerged underwater. An estimated 10,000 residents were evacuated immediately, along with Northwood students, as water levels exceeded eight feet on the campus. The damage throughout the area is estimated at $175 million, with $10 million at Northwood alone. The campus is struggling to recoup a loss of $4.2 million to its athletic facilities after its arenas were gutted and the football field was almost entirely submerged.
Image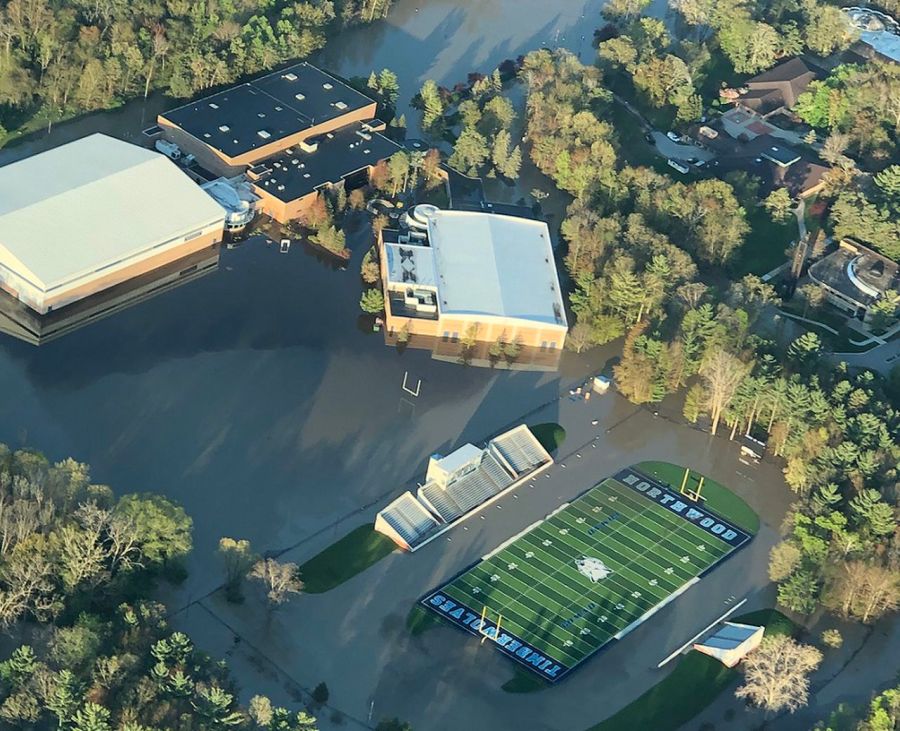 The process of rebuilding and reopening seems to be a linear theme throughout this unprecedented year and the Midland area is no exception. University president Dr. Kent MacDonald said that regardless of the devastation, the university is working hard to welcome students back this fall by rebuilding athletic facilities, renovating classrooms, and engineering the campus so that it's better protected against flooding in the future.
But it won't be easy.
Northwood needs the support of the business community more than ever. The same steely resolve and independent culture that led to the university's founding 61 years ago, is the same spirit that is driving the community to be open for business come August 24. "We are ready to do what it takes to make Northwood even greater," said Dr. MacDonald in a university-wide message. "No university in the thousand-year history of global education has ever had to operate after surviving a 500-year-flood and a 100-year pandemic."
In June, Northwood University launched an emergency fundraising campaign called the Rapid Relief Fund. The initial money raised has been used to jumpstart a campus recovery. And an ongoing campaign aims to secure millions of dollars to help rebuild the campus's infrastructure and preserve the educational system that has made a difference in the lives of students, faculty and university workers for the past six decades.
Millions of dollars are needed to help modernize the Midland campus and enhance its ability to attract a new generation. People who wish to donate can access the Northwood University Donation Page to make a donation toward the school's various student programs.
The "Northwood Idea" has been a long-held tenet of the campus community. It emphasizes the significance of individual responsibility, private property, free market and free enterprise—values that are also ingrained in American auto and truck dealers. The timing of this campaign and the generosity of the public at large is critical for keeping Northwood vibrant so it can continue to educate a new generation of students, many of whom strive to work in the auto industry.
While the flood waters have receded, there is a vast amount of work ahead before the campus can safely and successfully open on August 24. Northwood University now hopes for a flood of public support so it can continue its mission to teach and nurture the business leaders of tomorrow.
To learn more about Northwood University, visit its official website.