More people are turning to the web to find their next car. In fact, 89% of new car buyers researched their new vehicle online.[1] And shoppers aren't just looking up information online — they're purchasing there, too. In 2021, 16% of new car buyers purchased their car online, up from only 1% three years prior.[2]
Shoppers today expect an easy and helpful experience when they search for what to buy. It's important for auto advertisers to get in front of car shoppers with the right information and inventory.
Introducing Vehicle Ads
At NADA Show 2022 we announced vehicle ads, a new ad format on Search that shows nearby cars for sale. Currently available in the U.S. and coming to more countries soon, vehicle ads can help you easily reach customers looking for a new ride.
For example, if someone searches for a 2019 SUV, they'll see several vehicle options they can either purchase nearby or get delivered — along with pictures and inventory information like location, make, model, price and mileage. Once they select a car, the ad will direct them to the vehicle description page on your website where they can fill out a lead form or get your dealership's contact information. You can then select which actions you'd like to measure, like leads and store visits, and assign a value to them.
Image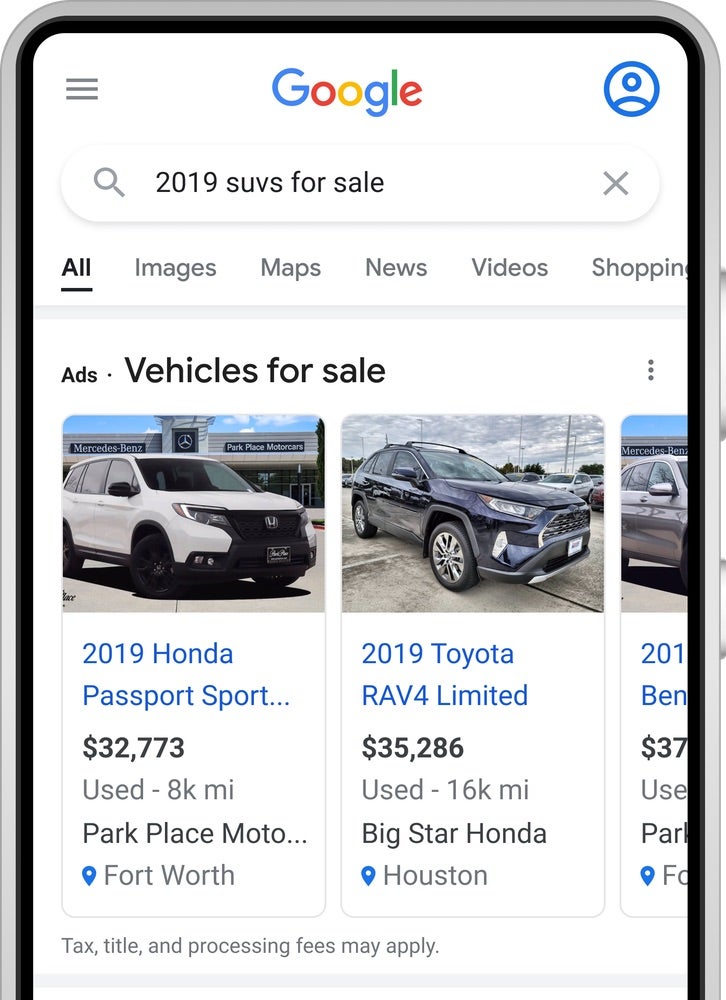 To get started, you'll need to create a vehicle inventory data feed and connect it to Google Merchant Center. This feed contains all the details about your vehicle inventory, like make, model, price, mileage and condition. Google uses those details to match shoppers with the most relevant cars as they're searching. Plus, by using Merchant Center, you can keep track of key inventory and ad performance insights.
Advertisers who complemented their existing Search campaigns with vehicle ads saw a +25% average increase in conversions during beta testing.[3] Let's take a closer look at some businesses who recently gave vehicle ads a spin.
Asbury Automotive Group needed a solution to meet the demand of shoppers searching for cars online. The team created a vehicle feed — a listing of all their inventory with descriptive attributes, like make and model, and the dealerships where they're located. After creating that feed, they used vehicle ads to promote their used car inventory on Search. As a result, Asbury drove a 35% increase in conversions and a 12% increase in conversion value.
Ken Garff Automotive Group was looking for more ways to reach the right customers with the right inventory. The team worked with their inventory management partner to create a vehicle feed and started using vehicle ads. After doing so, Ken Garff drove 55% more conversions at nine dealerships in the first half of 2021.
As the nation's largest retailer of used autos, offering 30 different makes and 600 models across over 220 stores in the U.S., CarMax aims to display the right car to the right customer in the right place. Powered by machine learning and automation, vehicle ads have driven incremental visits to CarMax's website and have helped CarMax connect more shoppers with their next car.
Want to try vehicle ads yourself? Check out more information and get started today. Visit the Google Ads & Commerce blog for more updates, tips, and inspiration from the Google Ads team.
---
[1] Google/Kantar, Gearshift Study, US, 2021, n=1,408 new car buyers
[2] Google/Kantar, Gearshift Study, US, 2021, n=1,408 new car buyers
[3] Google Data, US, Automobile, Aug 2021 vs. Jan 2022. Results are based on lead form submission conversions, estimated off the Aug, Sept, Oct 2021 adopters on vehicle ads