Image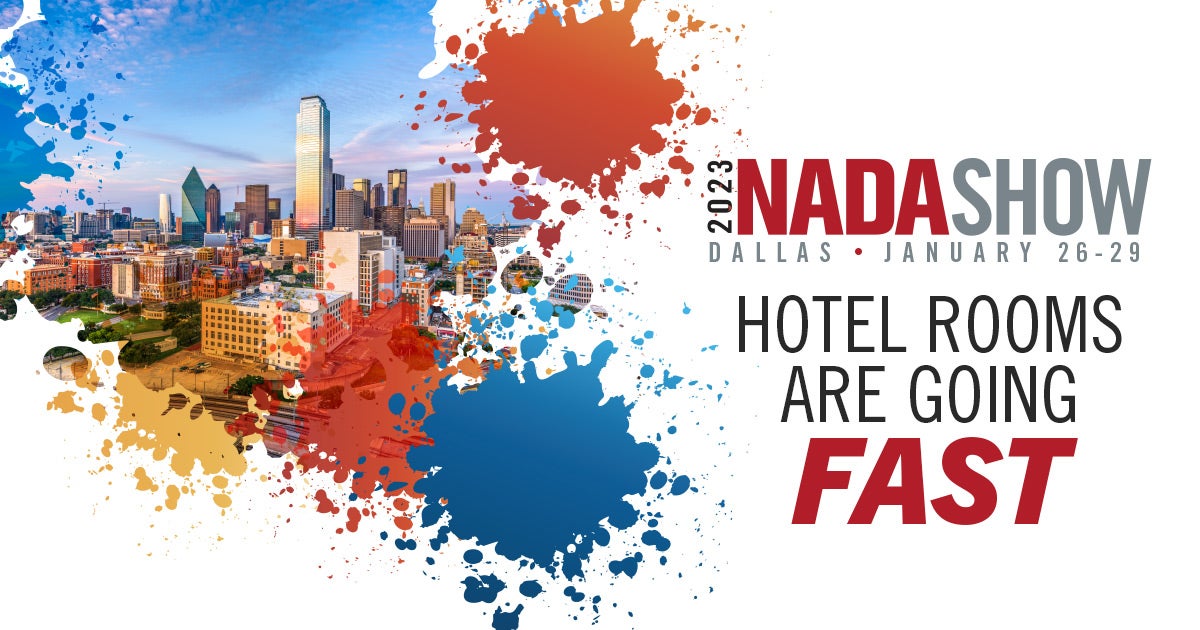 The Auto Industry Event of the Year is just four months away! And more than half of the hotels are sold out! If you haven't already, register — and reserve your preferred hotel accommodations — today.
NADA has negotiated discounted rates with more than 40 hotel properties throughout the diverse neighborhoods of Dallas to bring you a wide variety of choices. View the listing of NADA official hotels.
Why stay in an official NADA hotel?
Lower room prices guaranteed — NADA Show rates are significantly lower than traditional online rates.

Lower future prices — Strong hotel bookings help NADA continue to negotiate better rates for you at future NADA Shows.

Free transportation — Get access to NADA shuttle buses to and from the Kay Bailey Hutchison Convention Center Dallas, free of charge.

Networking — Spend more quality time with colleagues before and after sessions, in the relaxed atmosphere of an official NADA hotel.

Lower registration fees — If NADA fails to meet its contractual obligations to the hotels, financial penalties may be assessed, potentially affecting future registration fees.

Support NADA — NADA earns complimentary rooms based on aggregate hotel bookings, which in turn keeps costs down and supports our organization.

Support your favorite destinations — Meeting our room commitment allows NADA to re-book convention facilities in your favorite destination cities.
Maximize your company's investment and take advantage of exclusive travel and transportation discounts.
As you book your travel, make sure to stay through Sunday afternoon, so you won't miss Pro Football Hall of Famer Deion Sanders during our morning inspirational session or our final session of the Show — a supersized version of the highly acclaimed Best of the Best Ideas From NADA 20 Groups!
Hotel availability is on a first-come, first-served basis, and room selections fill up quickly. You will be able to take advantage of the NADA Show hotel rates after you register online, so register — and reserve your preferred hotel room — today.
For more stories like this, bookmark www.NADAheadlines.org as a favorite in the browser of your choice and subscribe to our newsletter here: