Image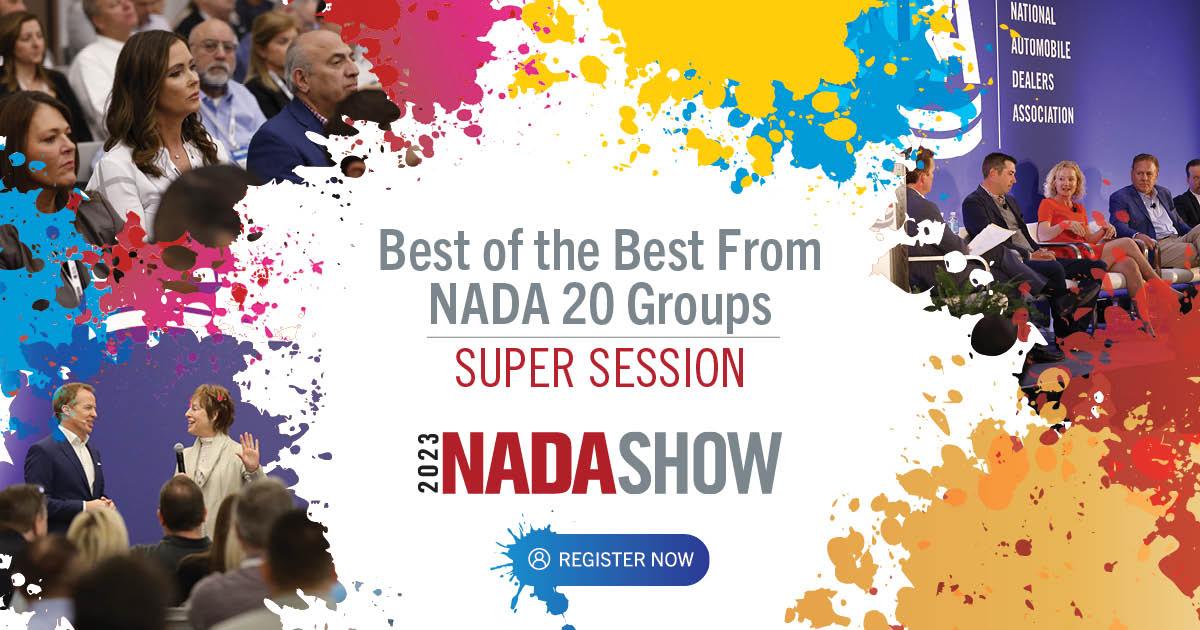 Nearly 3,000 NADA members participate in NADA 20 Groups. These peer groups offer a unique opportunity for non-competing dealers to openly share their most challenging issues and the solutions they have successfully employed. NADA 20 Groups have proven to be invaluable in improving personnel skills, processes and performance metrics.
A popular element of these meetings is the Best Idea contest: when each group member presents an idea for selling more new or used cars, service work or parts. Also included are ways to reduce costs, and increase owner loyalty and community awareness of the dealership.
In prior years, NADA Show has included a workshop that provides a taste of the famous 20 Group wisdom. And in 2023, this highly acclaimed session will be super-sized, featuring dozens of winning strategies.
Sunday afternoon, we'll wrap up the Auto Industry Event of the Year, with the Best of the Best From NADA 20 Groups. NADA dealer management consultants and 20 Group moderators will share winning ideas — complete with implementation plans and ways to get buy-in from your team — for increasing profits, improving processes, engaging employees and retaining customers, all with measurable results.
And, because everything's bigger in Texas, we're offering not one but two Super Sessions during NADA Show 2023! Tune in for more on The Future of Automotive Retail Roundtable, which is our very first education session of the event.
If you haven't already, register today and make sure to stay through Sunday afternoon, so you don't miss the Best of the Best From NADA 20 Groups Super Session!
For more stories like this, bookmark www.NADAheadlines.org as a favorite in the browser of your choice and subscribe to our newsletter here: