Image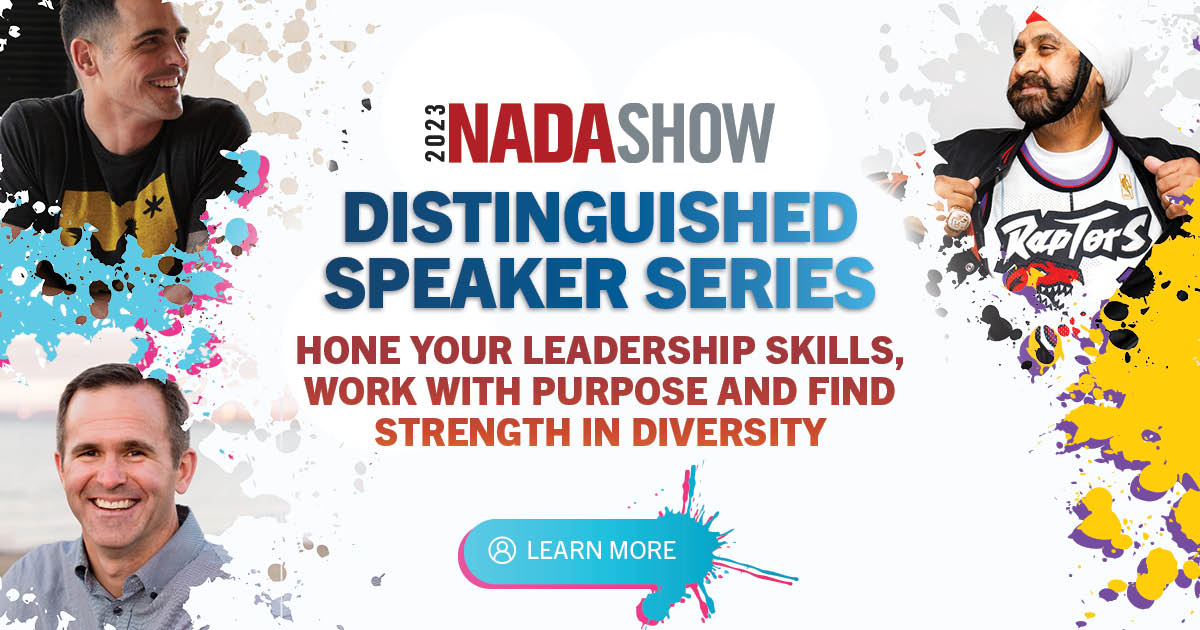 Join us at NADA Show 2023 for three unique perspectives that will help you hone your leadership skills, work with purpose and find strength in diversity.
Nav Bhatia, otherwise known as the Toronto Raptor's Superfan, has an interesting and inspiring story of immigrating to Canada, becoming the number-one car salesman at Hyundai in North American and owner of two dealerships, and using professional basketball to change perceptions and encourage integration. He shares his firsthand account of trying to integrate and excel with a new employer, a new culture and a new society — and encourages everyone to embrace diversity. Learn what a diverse and inclusive workplace looks like, and how the benefits extend far beyond the optics.
Joe DeLoss is one of the most talked-about social entrepreneurs in the country. He tells the story of building his newest venture, Hot Chicken Takeover, a fast-casual restaurant chain taking over the Midwest. DeLoss proves that social impact isn't just good for the community but may be in the best interest of business. This inspirational message is told with humor, humility and insightful takeaways — it's a story of service, entrepreneurship, chicken and change for good.
Colby Jenkins tells dynamic tales of helicopter assaults during desert and jungle combat operations, escaping from Alcatraz, shaking hands with a determined Taliban foe, extreme Army Special Forces land navigation, swamping a gun truck in Afghanistan and other powerful experiences. Jenkins describes and personalizes lessons learned in extraordinary situations. From the West Wing to corporate boardrooms to sitting on the ground with Afghan tribal leaders, Jenkins explores diverse perspectives on critical leadership and team-building principles.
Personal and professional development is one of the top reasons to attend NADA Show! And the Distinguished Speaker Series enables you to reflect on what matters most, and build the skills needed to maximize your potential and enhance your career.
Join us Jan. 26–29, in Dallas, for the Auto Industry Event of the Year.
Visit nadashow.org to learn more and register. 
For more stories like this, bookmark www.NADAheadlines.org as a favorite in the browser of your choice and subscribe to our newsletter here: