NADA Academy programs prepare current and future dealership leaders to improve each department's profitability, while examining how new technology and innovations reshape the industry.
Variable Operations 1 |

Pre-Owned Vehicles
Explore used-vehicle management, digital marketing and showroom control. Evaluate traditional automotive strategies and analysis in the context of retailing in the internet age.
Image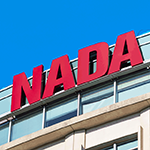 Image

Convince Your Manager You Need to Attend
How it Works
Academy programs include six one-week classroom sessions over the course of a year. The sessions, held at NADA headquarters, are then combined with hands-on practical application in each area of the dealership when back in the store.
Module - 1
Variable Operations 1 Pre-Owned Vehicles
Agenda
Used-vehicle department profitability and inventory aging analysis

Appraising, reconditioning, sourcing, pricing and wholesaling to maximize turn

Evaluating the relationship between volume and gross

Digital marketing, including SEO, SEM, conversion, mobile, analytics, reputation management and video

Converting leads to sales
Interested in taking a Seminar course on this specific topic?
Check out the Financial Management Training course.
Upcoming Classes
VEHICLE INVENTORY & MARKETING
Explore inventory management using an investment approach, and analyze effective cutting-edge marketing strategies and website efficiency.