A Dealer Guide to the FTC Safeguards Rule (L43)
Image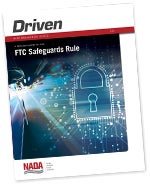 A Dealer Guide to The FTC Safeguards Rule discusses the Federal Trade Commission's updated data and information security requirements for dealers contained in the Gramm-Leach-Bliley Act and the FTC's Safeguards Rule.  It contains a detailed explanation of the Rule, the requirements that must be met, and provides a roadmap for achieving compliance.  It also contains extensive input from IT experts, as well as a series of appendices with sample programs and policies that dealers can use when drafting the required policies for their dealership. 
Tags: Driven Management Guide, L43, Safeguards, Safeguards Rule, Revised Safeguards Rule, FTC, GLBA, Gramm-Leach-Bliley, Qualified Individual, ISP, information security program, risk assessment, encryption, MFA, multifactor authentication, #MemberBenefits, #DrivenGuides
 
Related Content
NADA has produced a series of compliance aids to dealers, including FAQs, a well-attended dealer webinar, and several Show Workshops addressing the new Rule.  
MEMBERS
Log in to download the FTC Safeguards Rule Driven Guide (PDF) and the editable policy template (Word document) to customize for your business:
 
NON-MEMBERS
Purchase the FTC Safeguards Rule Driven Guide (PDF) for $89: