Voluntary Protection Products: A Model Dealership Policy
Voluntary protection products (VPPs) can offer customers valuable protections against unexpected and potentially costly events such as floods, hail damage, theft, vandalism, vehicle accidents, mechanical breakdowns or the customer's death, disability or unemployment.
Dealers should strive to develop VPP policies to ensure these products are offered, sold and administered in a professional and consumer-friendly manner. This optional policy template is intended to assist dealerships with this process.
The Driven guide below provides a dealer with the optional policy, instructions and disclaimers for using the template, while the Policy Template provides an editable document that a dealer can tailor to their own situation (Note: You will be asked to agree to a disclaimer before downloading). Membership login is required to download both documents. For login assistance, email us or call 800.557.6232.
Downloads:
Image
Driven Guide: Voluntary Protection Products: A Model Dealership Policy
Image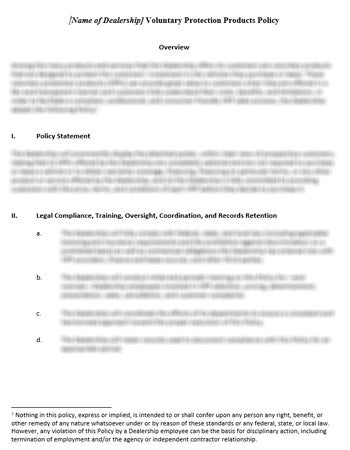 Policy Template: A Word document that dealers can tailor to their own needs (Note: Disclaimer required)
DISCLAIMERS
It is essential each dealership read the caveats and disclaimers contained within these documents and consult with legal counsel who is familiar with its operations to determine whether – and to what extent – it should adopt the optional NADA/NAMAD/AIADA Model Dealership Voluntary Protections Products Policy.