Image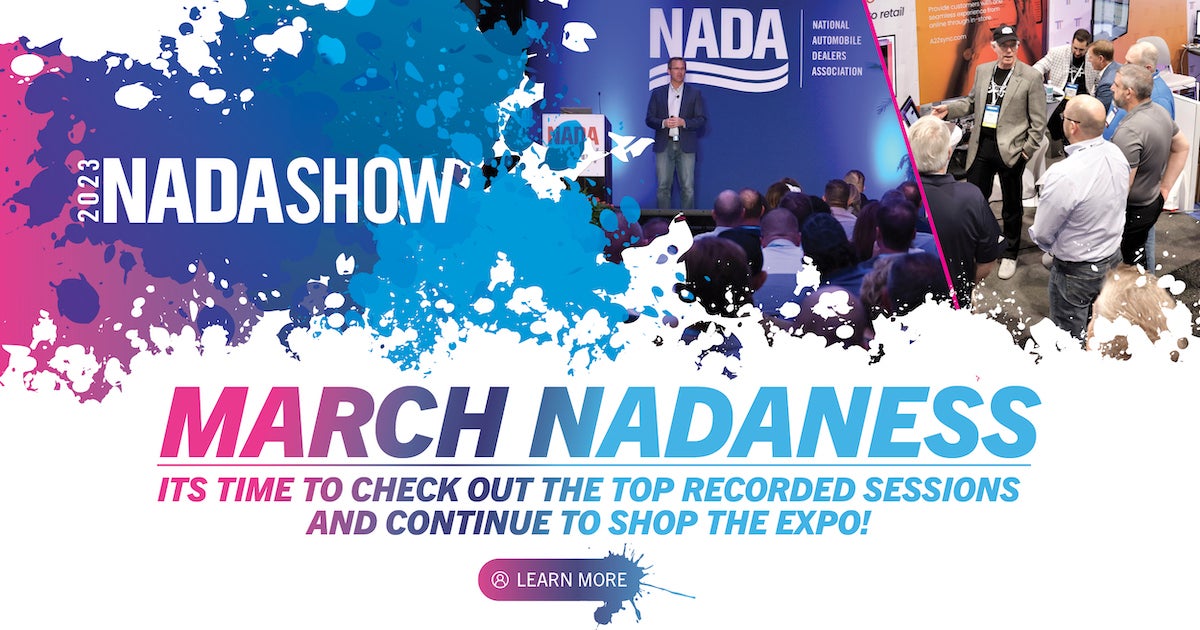 NADA Show 2023 isn't over! It's time to check out the top recorded sessions and continue to shop the Expo. There's so much to choose from, it's madness, or rather NADAness!
Education Sessions
More than 100 education sessions were offered at NADA Show 2023. Maybe you missed one or want to watch it again? And don't forget to encourage fellow dealership employees to take advantage of this top-notch education. All NADA members have complimentary access. (For help logging into your member account, or for assistance with becoming an NADA member, contact NADA Customer Service (800.557.6232).)
Explore the full lineup in our education catalog, which is searchable by keyword, including favorite speakers and hot topics such as:
EVs

Business development centers 

Developing high-performing teams and

Google Analytics V4
As the month progresses, we'll provide tips on how to fill out your bracket — with the 16 most-popular workshops. Who do you rank as the elite eight presenters? And stay tuned for the final four tracks we think your dealership shouldn't miss.
But, of course, the tournament wouldn't be complete without Expo!
NADA Expo
The recent NADA Show 2023, in Dallas, offered attendees the opportunity to shop more than 500 vendors and suppliers up close and personal. The live show may be over, but NADA Expo is still open for business online with all the products and technologies you seek. Explore the Exhibitor Directory by company name or product category.
And, as Connie Mikels, director of expositions, reminds, "when you do business with these companies you are supporting the ones that support NADA, and our members, by way of their exhibit participation."
Don't forget to check out the 15 companies that went head-to-head and had a fun time while entertaining the audience during our inaugural Pitch Competition at Live Stage. Congratulations to the winner of the competition: 1Micro Key Management, represented by Jamie Crum!
1Micro Key Management
ACV | MAX Digital
Bayley Service Intelligence
Dealer Pay LLC
Dealerslink
FixedOPS Marketing
Lotpop Inc.
MOVE
Mudd Advertising
Polly
RepairPal
SearchLab Digital
Sokal
Team Velocity
WarrCloud, Inc.
Thank you to all who support NADA by participating in our flagship event. Save the date for NADA Show 2024. We'll be back in Vegas, February 1-4!
For more stories like this, bookmark www.NADAheadlines.org as a favorite in the browser of your choice and subscribe to our newsletter here: