Image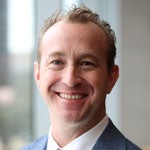 Todd Milbury
Vice President, Industry Relations
Todd Milbury is Vice President of Industry Relations, working to engage the major automotive manufacturing companies on issues important to NADA dealer members.  These issues range from operational programs and policies unique to one brand, to ecosystem topics that impact the current and future success of all dealers and the health of the auto industry.
His first hands-on experience in the automotive industry came during high school when he began working at his family's Oldsmobile dealership.  Following completion of his undergraduate studies at the University of Michigan, he joined General Motor's Cadillac division and held a series of dealer-facing field positions around the country before transitioning internally to support GM's Order-to-Delivery group at GM's headquarters.
Todd left GM in 2003 to earn an MBA from the University of Texas-Austin, and in 2005 returned to the auto industry with roles at marketing firm Harte-Hanks and then software firm Urban Science before joining NADA in 2013.
Todd, a native Michigander, lives in Vienna, VA with his wife and two children.