Image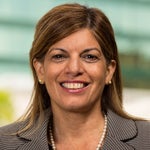 Ivette Rivera
Senior Vice President, Legislative Affairs
As senior vice president of NADA's Legislative Affairs group, Ivette Rivera works to develop NADA's overall legislative strategy and oversees day-to-day operations of the association's Capitol Hill office.
A longtime NADA employee, Rivera has been involved in many critical dealer issues. She played a key role in getting dealers exempted from Consumer Financial Protection Bureau oversight and developing the Cash for Clunkers program. She was instrumental in helping to obtain Congressional passage of two dealer-specific public laws, including a measure to ensure that dealers are not forced to waive their rights under state law in a dispute with their manufacturer.
Rivera holds a B.A. degree in political science from the University of Colorado and an M.A. degree in government from Johns Hopkins University.