Image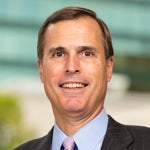 David Regan
Executive Vice President, Legislative Affairs
David W. Regan is executive vice president of Legislative Affairs at NADA.He is responsible for the strategic engagement of the association's legislative office in Washington, D.C., which includes NADA's political action committee. He also serves as part of the executive management team at NADA.
Regan has worked in NADA's legislative office since January 1999, except for two-and-a-half years as vice president of federal affairs for Phillips 66. Additionally, prior to joining NADA, Regan served as legislative counsel for U.S. Sen. Wendell Ford (D-Ky.), handling matters under the jurisdiction of the Senate Committee on Commerce, Science and Transportation. Regan practiced law for several years before becoming a trade association executive. In Washington, D.C., he practiced with Akin, Gump, Strauss, Hauer & Feld, LLP and focused on representing clients before the U.S. Congress. In Kentucky, he practiced general corporate law with the Lexington, Ky., office of Greenebaum, Doll & McDonald.
Regan holds a B.A. in Economics from Wake Forest University in Winston-Salem, N.C, and a J.D. from the University of Kentucky College of Law. He is admitted to practice law in the District of Columbia and the Commonwealth of Kentucky (inactive status). He serves on the Board of Trustees of the U.S. Capitol Historical Society and is a member of the American Society of Association Executives. Regan, a native Kentuckian, lives in McLean, Va., with his wife, and they have two adult daughters.