Dealerships Save Consumers Time and Money
Competitive dealerships are:
Saving Consumers the Most Money
Having multiple retailers of the same brand in the same market creates price competition and superior customer service because they must all compete for the same business.
Empirical research shows that the average retail price of a new car goes down by hundreds or thousands of dollars if there are multiple same-brand dealerships all competing with one another to sell the same vehicle in the same market.
This savings simply doesn't exist without multiple, independent franchised dealers all across America-like the current franchised dealer network that the vast majority of automakers rely on to sell and service their new vehicles.
Image
Approximately 18,000 local new-car dealerships across the country compete with one another for the business of more than 17 million new-car buyers a year-that's an average of more than 47,000 customers a day.
According to independent research, because of robust intra-brand competition by these independently owned and operated dealerships, consumers regularly save hundreds and often thousands of dollars on the purchase of their new cars.
And because each of these local dealerships has access to dozens or more lenders, they provide competitive financing, often helping customers find better financing rates than the rates customers can secure themselves. In fact, through a local dealership, customers can sometimes get a better rate from their own bank than they could on their own.
Helping Customers Get Great Financing
Every day, consumers save money on new-vehicle purchases when they choose to finance through their local dealerships.
Because local dealerships can shop a customer's credit application to dozens of lenders, dealerships are usually able to offer consumers better interest rates than consumers can find on their own.
Local dealerships can also further discount interest rates for their customers to meet or beat a competing offer from another lender, such as a bank or credit union.
In fact, while most consumers know that vehicle financing is available at their local dealership, many don't realize that it usually saves them money. But it does. Dealer-assisted financing delivers the savings, convenience, choice and control that every consumer deserves.
Image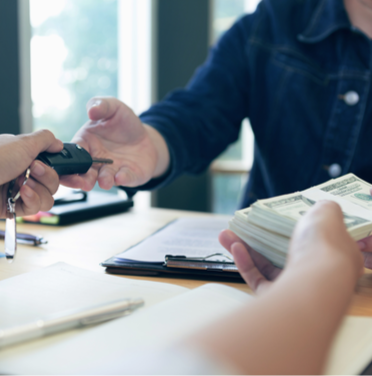 Auto dealers know time is money. Respect for her time is one reason Sabrina has bought more than one car from this dealership in Tampa Florida.
 
Creating More Price Transparency for New Vehicles
Today's new-car prices are transparent, allowing customers to benchmark pricing and negotiate.
The manufacturer's suggested retail price (MSRP) is readily available, and consumers can easily obtain invoice and independent pricing information for a vehicle.
Armed with this information, consumers can go to different dealers to negotiate price.
In a factory-direct model, the factory fixes the price of its vehicles without any opportunity for consumers to either benchmark or negotiate prices.
Image