Image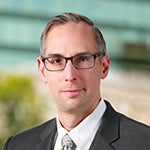 Paul D. Metrey
Senior Vice President, Regulatory Affairs
Paul D. Metrey is the Senior Vice President, Regulatory Affairs for the National Automobile Dealers Association. In this capacity, he directs a team of attorneys who represent dealer interests before, and educate dealers on regulations promulgated by, federal executive branch agencies that oversee dealer operations.
Mr. Metrey is the author and editor of numerous NADA publications, including the NADA/NAMAD/AIADA Model Dealership Voluntary Protection Products Policy and the NADA/NAMAD/AIADA Fair Credit Compliance Policy & Program. He frequently speaks to dealers, Automotive Trade Association Executives, dealership compliance professionals, and other industry groups on an array of regulatory topics. Mr. Metrey is active in several professional organizations and serves on the Governing Committee of the Conference on Consumer Finance Law.
Mr. Metrey joined NADA in 2001 as its Director, Regulatory Affairs. He previously served as an attorney with the Federal Emergency Management Agency and as an active-duty Army JAG officer, with assignments in Germany, The Netherlands, and Fort Meade, Maryland. He also served in a reserve capacity as the Chief, International Law Branch of the National Guard Bureau's Legal Support Office. Mr. Metrey obtained a Juris Doctorate degree from Catholic University's Columbus School of Law and a Bachelor of Arts degree from Virginia Tech.