Image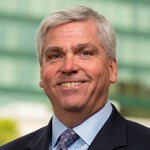 Michael Regan
Senior Vice President, Industry Relations
As senior vice president of industry affairs, Michael T. Regan directs the activities of NADA's Industry Relations and International Affairs groups, as well as the American Truck Dealers (ATD) division.
Prior to rejoining NADA, Regan served as AutoNation, Inc.'s director of industry relations, overseeing the relationship between America's largest automotive retailer and the 23 manufacturers it represents. He was primarily responsible for establishing and maintaining positive working relationships with each of the major automotive manufacturers. Through regular dialogue with each manufacturer's senior executives, he was charged with working to resolve many of the issues that impact the 349 automotive franchises the company operates across the nation.
Prior to joining AutoNation, Regan was associate director of industry relations for NADA. Over nearly nine years, Regan worked closely with the Industry Relations Committee and the association's leadership to firmly position NADA as the industry benchmark in measuring dealer satisfaction and as the primary voice of the dealer in negotiations with automotive manufacturers.
Before joining NADA, Regan spent nearly eight years with Nissan North America, where he worked through various corporate and field positions, most involving direct dealer interaction, in California, Virginia, North Carolina, Maryland, and Washington, D.C.
Regan also has direct experience on the retail side of the automotive business. His initial exposure to the industry came in Vienna, Austria, where he worked as a trainee for one of the largest Mercedes-Benz distributorships in Europe. He later began his career as a sales consultant and F&I manager for a large dealership group in Bethesda, Md.
Regan is a 1983 graduate of Pennsylvania's West Chester University, where he earned a B.S. degree in business management. Married with three children, Regan resides in the Washington D.C. area.