Image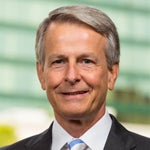 Bert Hulgrave
Vice President, Marketing
As vice president of Marketing for the National Automobile Dealers Association, Bert Hulgrave develops strategic marketing plans working with the leadership team and directs the marketing group in support of all marketing activities across the organization. The Marketing group, in coordination with Public Affairs promotes NADA products and services with the goals of identifying potential clients and advancing NADA objectives.
Hulgrave has been with NADA since 2007 and was previously vice president, Industry Affairs and managing director of the American Truck Dealers, division of NADA.
Prior to joining NADA, Hulgrave served in several management positions with General Motors. During his tenure as GM's director, Industry and Dealer Affairs, Hulgrave worked directly with NADA staff, responsible for overall dealer relations and communications with NADA and the Dealer Council. It was this experience where he learned the importance of NADA to all dealers and an important reason why he would later gladly accept a position.
Hulgrave started his career working directly with dealers as a Chevrolet district manager, then progressed through a series of field positions and later to Chevrolet Central Office. Executive level assignments included: regional marketing director, regional operations director, Chevrolet national director education and training, director General Motors University, for sales & service, director global conference planning, director/administrator, North America Strategy Board, and director Industry and Dealer Affairs.
A native of Michigan, Hulgrave received his degree in Business Administration, as a Marketing major from the University of Notre Dame. In addition, Hulgrave participated in several executive education programs in marketing, management, and leadership including programs at the University of Pennsylvania, Stanford University, and the Center for Creative Leadership.
Married with two children, Hulgrave resides in the Washington, D.C., area.