Image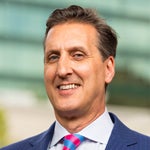 Joseph L. Cowden
Executive Vice President & Chief Financial Officer
Joe Cowden serves as NADA's Executive Vice President & Chief Financial Officer. He works with NADA's leadership to execute NADA's strategic initiatives. Mr. Cowden is responsible for all financial operations of NADA and its affiliated entities. He oversees investments, banking, budgeting, financial reporting, payroll, taxes, annual audit and real estate.
Mr. Cowden was previously the Controller of the American Automobile Manufacturers Association (now Alliance of Automobile Manufacturers) and worked in corporate finance for the Wyatt Company (now WillisTowersWatson). Mr. Cowden began his career with PricewaterhouseCoopers.
Mr. Cowden holds a B.S. degree in Accounting from the University of Maryland, College Park.