NADA only selects top-quality hotels for our room block, and with hotels filling up quickly, it's important to secure your room from the NADA hotel block today.
NADA Show rates are significantly lower than traditional web rates, and with top-name hotels such as Wynn and Encore Las Vegas (our Show headquarters hotels), Palazzo Resort Hotel Casino, ARIA Resort & Casino, Bellagio and more, and there is no wonder that seven of our hotels are already sold out for the 2018 Show.
Staying close to the Las Vegas Convention Center makes traveling to and from the show a breeze and our NADA shuttle buses will take you to and from the convention center, free of charge.
Remember, all NADA Show 2018 hotel bookings in Las Vegas should be booked through the official NADA Show registration partner, Experient. Experient is the only authorized housing provider for NADA. Avoid hotel scams by registering directly though the NADA/Experient website or by calling 800.465.7110. Booking your hotel through NADA also allows you to support your favorite destinations. We know that our members love Las Vegas, and meeting our room commitment allows us to re-book convention facilities in what you've told us is one of your favorite destination cities.
Review the map of NADA Las Vegas hotels for 2018 below and determine which are still available on our NADA Show hotels page.
Image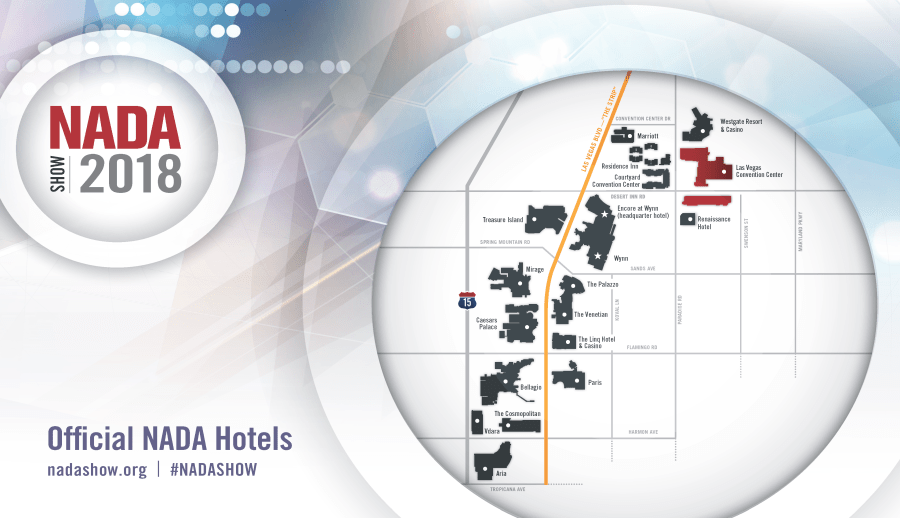 NADA Show 2018 takes place March 22-25, 2018 in Las Vegas Nevada. Register today to secure your spot and preferred hotel!