Image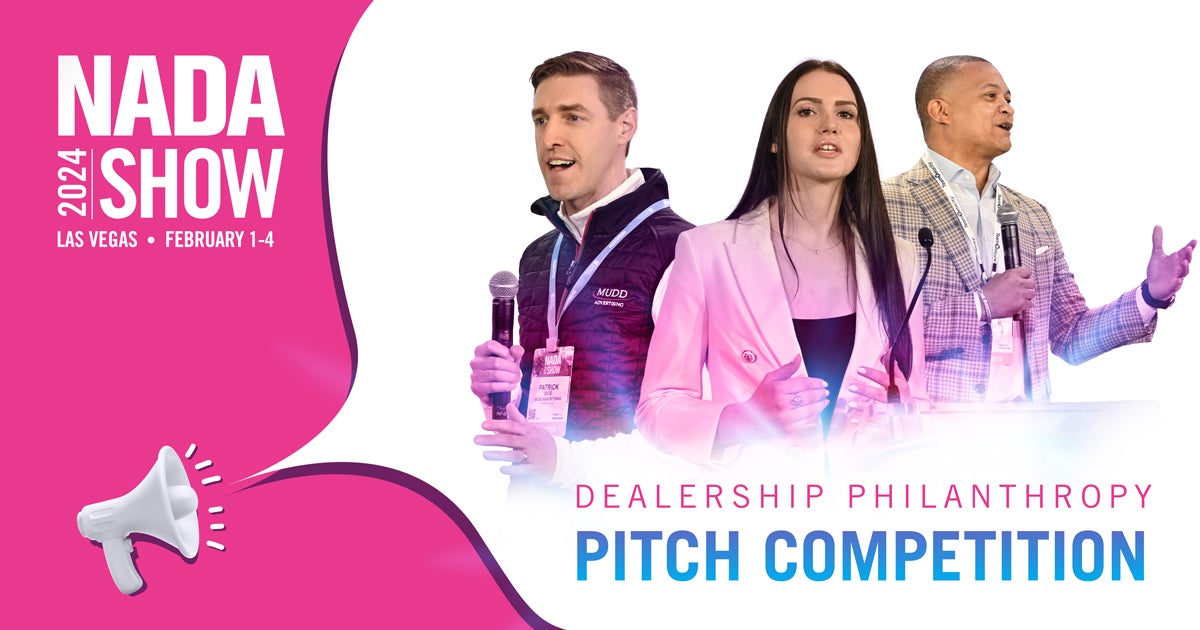 This year at the 2024 NADA Show we are inviting members to take the Live Stage to share how they are giving back to the community in a pitch-style competition! After the success of last year's exhibitor pitch competition, we wanted to expand the competition to allow NADA members to participate. And what better way than to showcase the generosity of dealerships?
Up to 10 finalists will be selected to pitch how they gave back to their community in 2023 for two minutes each to a panel of judges and Show attendees on stage. This is a great opportunity for members to showcase their dealership and their philanthropic causes in front of a live audience of attendees and thousands of others watching on the livestream of the event. After each pitch is made, finalists will have a two-minute Q&A session from the judges.
Dealers must submit a one-minute audio file that explains what they did in 2023 to help their community which will give the audience a sense of their pitch. Submitting an audio file does not guarantee that you will be selected as one of the finalists who will compete for the Grand Prize on February 3, 2024.
Judging criteria will be based on compelling storytelling on how you helped your community.
One Grand Prize winner will be selected from the group of finalists at the conclusion of the pitches on February 3. The Grand Prize winner will receive a trophy, a $5,000 donation to a charity of their choice and will be participating in a Live Stage segment on Sunday, February 4 of the NADA Show along with the top three finalists from the competition. The winner will also receive editorial and social media coverage on NADA's digital platforms.
Members who wish to be considered as finalists for the on-stage pitch competition must submit their one-minute audio file by November 17. Entrants will be informed if they have been selected as finalists in December.
Entrants must agree to be bound by the Official Contest Rules. The competition will take place Saturday February 3, 2024, at the NADA Show 2024 Live Stage at the Las Vegas Convention Center in Las Vegas.
For more stories like this, bookmark www.NADAheadlines.org as a favorite in the browser of your choice and subscribe to our newsletter here: