Philanthropy Pitch Competition
Image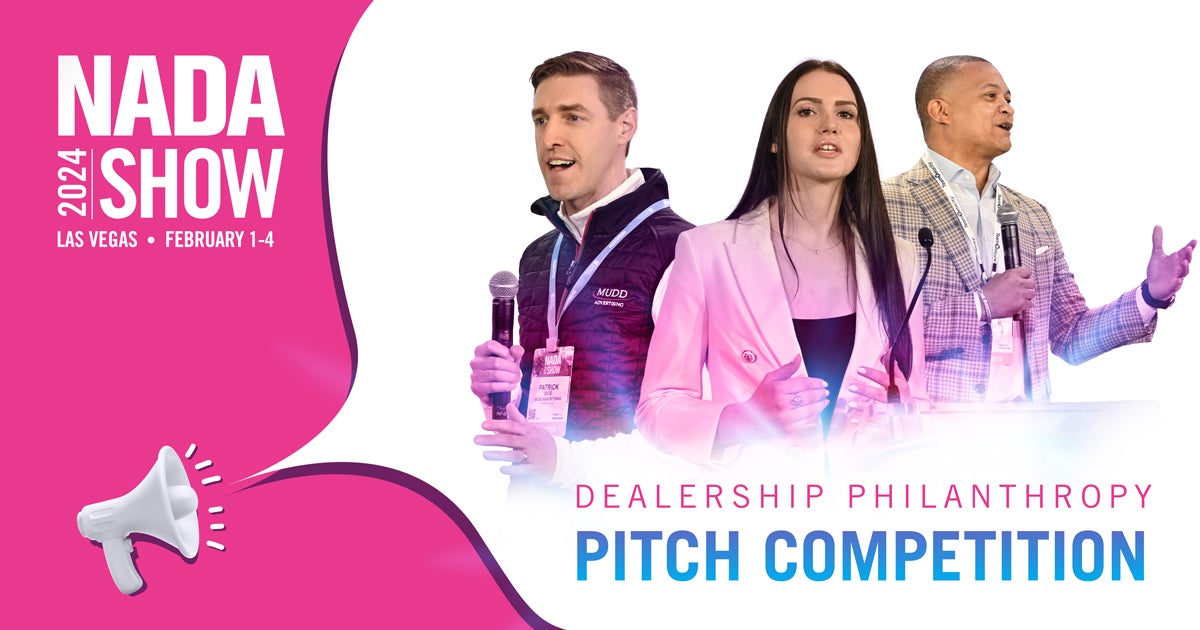 Who: The Philanthropy Pitch Competition is open to all dealer members attending the NADA Show 2024.
What: Up to 10 finalists, selected from a larger pool of entrants, will have two minutes each on the Show's Live Stage to pitch how they are giving back to the community to a panel of judges and Show attendees.
Where: The Pitch Competition will take place on the Live Stage at the Las Vegas Convention Center in Las Vegas.
When: Dealers who wish to be considered as finalists for the on-stage pitch competition must submit a one-minute audio file by Nov. 17th. Entrants will be informed if they have been selected as finalists on or about Dec. 1st. The Philanthropy Pitch Competition will take place on the Live Stage on Saturday February 3, 2024. One Grand Prize winner will be selected from the group of finalists at the conclusion of the finalist pitches on February 3rd. The Grand Prize winner will receive a personalized trophy, a $5,000 donation to a charity of their choice and will be participating in a Live Stage segment on Sunday, February 4th of the NADA Show along with the top 3 finalists from the competition.
How: Entering the competition is free. Dealers must submit a one-minute audio file below that teases about their charitable initiates and what the audience can expect from their pitch. Submitting an audio file enters members into the competition but does not guarantee that they will be selected as one of the finalists who will compete for the Grand Prize on February 3, 2024.
The Pitch Competition will be a great opportunity for Show members to showcase their wares in front of a live audience of attendees and thousands of others watching on the livestream of the event. The Shark Tank-like competition will be fast-paced, informal, light-hearted and fun!
Judging criteria will be based on compelling storytelling on how you help your community.
Entrants must agree to be bound by the Official Contest Rules. 
Entrants agree to hold harmless NADA and its affiliates for any comments made during the pitch competition, technical failures of any kind, or electronic/human errors that might occur throughout the duration of this competition. Read the full Contest Rules.
Submit Your Audio File to Enter: