Image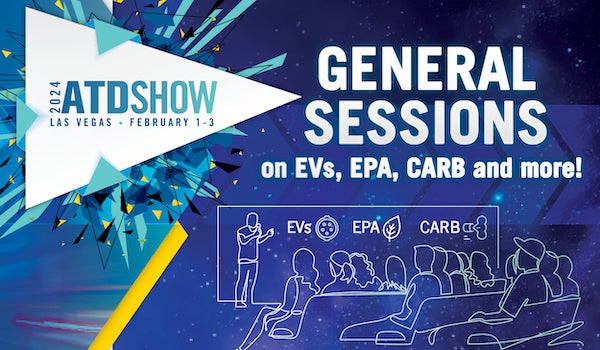 Are you ready to ignite your passion for leadership, politics and the future of the truck market? ATD Show 2024 returns to Las Vegas, February 1-3, and it promises to be an event like no other. With a lineup of industry experts, motivational speakers and thought leaders, this year's theme, "Driving the Future," is bound to inspire and educate attendees.
Lonnie Mayne: Stepping Up to Stand Out
First up: Lonnie Mayne shares a simple philosophy that's changing the way people show up in the world and the workplace. He encourages us to humanize business and ignite our human potential. It's about standing out — like a pair of red shoes — in everything we do. Learn his five-step framework that helps individuals and organizations stand out in leadership, customer experience, culture and life. Adopt this powerful yet relatable message that people immediately apply and never forget.
Charlie Cook Predicts the Future: 2024 Election Forecast
Whether you're a political junkie or just curious about the future of the nation, Charlie Cook is a must-see. As the founder of the independent, nonpartisan Cook Political Report, he has been a leading authority on U.S. elections and political trends for decades. Gain insights into the upcoming elections, the dynamics affecting the Democratic and Republican parties, and what it all means for American small businesses.
Future of Electrification for the Truck Market
The future of the truck market is electrifying, and this session is your opportunity to plug in. Industry experts, including K.C. Heidler, President and CEO at Tom's Truck Center; Dan Murray, Senior Vice President, ATRI; Paul Rosa, Senior Vice President of Procurement and Fleet Planning, Penske Truck Leasing; and Laura Perrotta, President, ATD will discuss the current state and future of truck electrification. Gear up to explore government mandates, market expectations, and the challenges and opportunities ahead. Gain invaluable insight for truck dealerships considering electrification. Discuss what happens if these ambitious goals prove elusive.
Washington Policy Panel Discussion
The trucking industry is not just about trucks; it's also about policies and regulations. Michael Harrington, Vice President of Legislative Affairs, NADA; Mike Kastner, Senior Vice President at NTEA, the Association for the Work Truck; Bill Sullivan, Executive Vice President for Advocacy, American Trucking Associations; and Laura Perrotta, President, ATD will lead a panel discussion on the top policy priorities and challenges facing the trucking industry. From legislative priorities to EPA and CARB regulations, this session will shed light on how politics can impact the truck market and your business.
But wait, there's more!
You'll also hear from ATD leadership, and we'll announce the Truck Dealer of the Year award winner.
Plus, as an ATD Show attendee, you'll have access to NADA Show, including its Main Stage speakers:
Jon Taffer: The business expert and executive producer of "Bar Rescue" will share insights on self-honesty, focusing on what truly matters, and avoiding common pitfalls.

Danica Patrick: The former racecar driver, author, broadcaster, podcast host and entrepreneur will inspire you with lessons learned from breaking barriers, setting records and achieving remarkable feats both on and off the track.

Kurt Warner: The Hall of Fame quarterback and philanthropist will share his remarkable story of triumph over adversity, emphasizing the importance of faith, family, and the pursuit of dreams.
ATD Show 2024 promises to be a transformative experience. Join us to enhance your leadership skills, stay informed about politics, understand the future of truck electrification, and be inspired by remarkable individuals — including fellow truck dealers and managers.
Register today to join us February 1-3, in Las Vegas, and get ready to drive the future of your truck dealership and our industry.