Image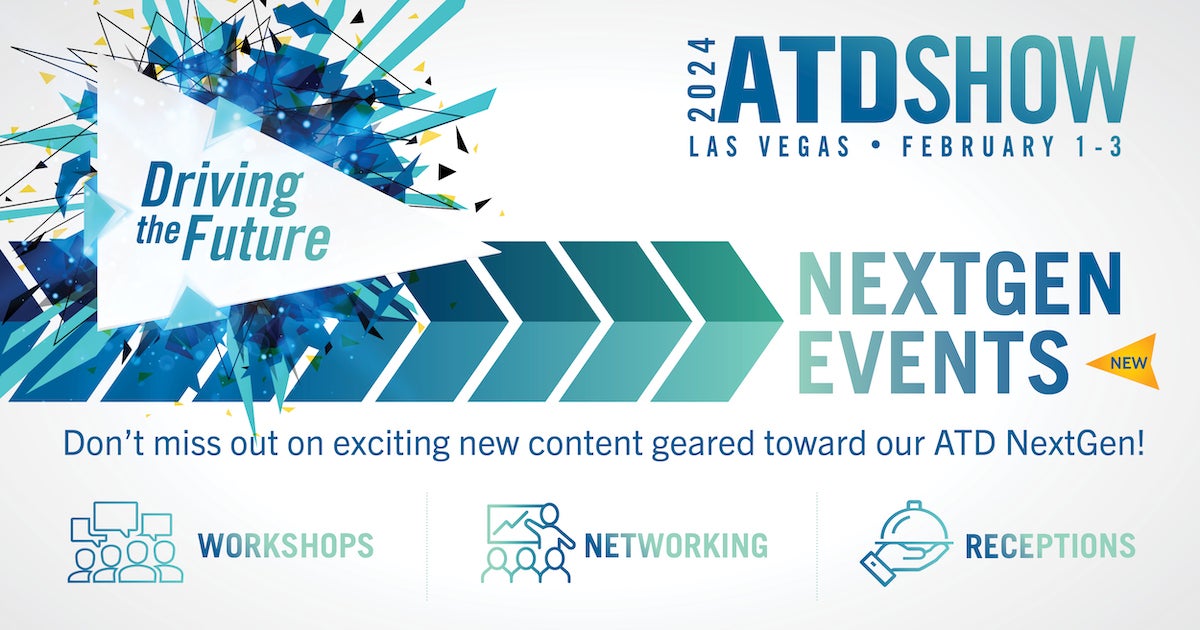 ATD Show 2024 is focused on driving the future. And a critical component is ATD NextGen!
Regardless of age or tenure, if you're interested in advancing your career and shaping the industry — learning about NextGen and building a successful future together — ATD has developed exciting new content just for you.
You won't want to miss this unique opportunity to network, learn and grow, all within the backdrop of the highly anticipated ATD Show 2024. Plan to join us, at the Wynn Las Vegas, Feb. 1-3 to connect with fellow truck dealer professionals, expand your network and foster meaningful industry connections.
ATD NextGen Leadership Networking Breakfast and Seminar
Are you curious about generational differences and how they impact the truck dealership landscape? Delve into the world of Baby Boomers, Gen Xers, Millennials and Gen Zers. Explore their unique characteristics and motivations; and learn how to effectively communicate with them and manage them. Discover strategies for attracting, retaining and energizing talent from diverse generations.
Jim Dance, president of The Walter Strayer Company and business leadership instructor for the NADA/ATD Academy, will lead this interactive discussion, during which you'll gain practical tools and approaches you can implement immediately. Learn more about this optional ticketed event.
ATD NextGen Reception
Join us for a relaxed evening of networking and idea-sharing at the ATD NextGen Reception on Friday evening in the Wynn Clubhouse. Connect with your peers, forge meaningful connections and enjoy a convivial atmosphere.
ATD NextGen Workshop: Engaging in Policy and Grassroots Efforts
All are welcome to learn how to become a powerful advocate for your truck dealership and influence key decision-makers within the industry.
Space is limited, and seats are filling fast. Don't miss out on this chance to continue driving the future of your truck dealership — and your career. Register now!