NADA Show 2020 is just days away, and this year's show will be one to remember. Find out all of the must-know info to be prepared for this exciting weekend, Friday, February 14 through Monday, February 17.
Holiday Weekend Travel
Keep in mind that our Show weekend is bookended by two big holidays: Valentine's Day on Friday 2/14 and President's Day on Monday 2/17. This means you'll want to allow additional time for travel to and from airports, and plan ahead for restaurant reservations and entertainment options while you're in the city. Now is also a good time to make sure you've secured any rental or other car needs you may have, using your NADA discounts. Learn more.
What to Pack
Mild temperatures are ahead in Las Vegas. Check out the forecast and don't forget your coat, it can get chilly at night! Highs will be in the low-to-mid-60s and lows in the low-40s, and partly cloudy. The attire for the Show is business casual (remember, convention center rooms can get chilly), with the exception of some evening events and galas, where some choose to wear their favorite cocktail or evening attire.
Registration
Registration Desk - NADA Attendee Registration will be located in Hall N3 of the Las Vegas Convention Center. Please note, if you lose or forget your badge, you are allowed one free reprint. Any additional reprints will be charged $50.
Image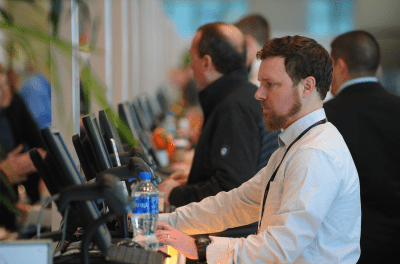 Speed through registration with Scan-N-Go kiosk check-in.
 Scan-N-Go Kiosks - Use the email registration confirmation you received to check in onsite at one of the Scan & Go counters. Use a printed confirmation or pull up info on your smartphone, just like scanning your boarding pass at the airport! Registration Hours:
Friday 9am-6pm
Saturday 7:30am-5pm
Sunday 8am-5pm
Monday 8am-3:30pm
Learning at the Show - What to Expect
Getting to Las Vegas Convention Center
NADA will provide complimentary shuttle services for registered attendees to and from official NADA hotels and the Las Vegas Convention Center. View the shuttle schedule and pickup locations on our website or on the mobile app for access right on your smartphone or tablet.
Download the NADA Show 2020 mobile app
See the full schedule, speaker information, exhibitor listings, interactive maps and more in the NADA Show app! Download the app from Google Play or the iTunes App Store. You'll then be able to sync your MyPlanner itinerary for the weekend. Learn more.
Make Last-Minute Appointments with Exhibitors
There's still time to set appointments with the exhibiting companies you want to visit. Plus, you won't want to miss the new First-time Exhibitors Showroom, with new exhibiting companies in one easy-to-navigate space! Use the MyPlanner tool to search companies, read about their products and set up meeting times during the show. (Note: this feature is not available to international attendees from the European Union and Canada.) Learn more.
Receptions, Parties and Events
Image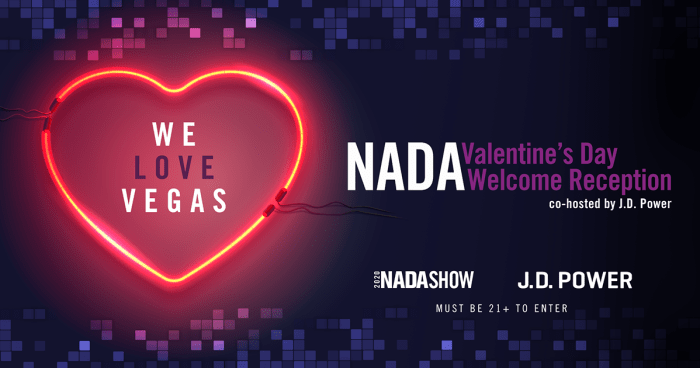 Besides the packed daytime schedule, there are plenty of additional hospitality events and receptions you won't want to miss throughout the weekend. Kick things off with the NADA Valentine's Day Welcome Reception (co-hosted by J.D. Power) on Friday, join us for brunch and discussion at the Women in Auto Retail Brunch on Sunday, and check out the many hospitality events hosted by state associations, manufacturers and exhibiting companies each evening. Note: some events are ticketed and not included in your registration. Visit the event links for additional info and pricing.
Looking to see some shows while you're in Vegas? NADA attendees will find special discounts to shows like Cirque du Soleil and Blue Man Group. More concerts, events and shows happening this weekend are listed on the Las Vegas Visitors website.
Follow NADA Show on Social Media
Tune in to all of NADA's social platforms for the latest real-time alerts, photos, recaps and live-streamed events. Plus, don't miss our special Dealer Flash Contest on Twitter, where dealer and manager attendees can win cash and prizes by taking selfies at designated checkpoints throughout the show. Visit our pages and use #NADASHOW to follow the conversation on all platforms:
| | | | |
| --- | --- | --- | --- |
| Facebook | Twitter | Instagram | Linkedin |
Still need a last-minute NADA Show registration? Visit our website to snag a ticket for $50 off the onsite registration price. We can't wait to meet you in Las Vegas!